Travertine Installation Services for Jupiter Residents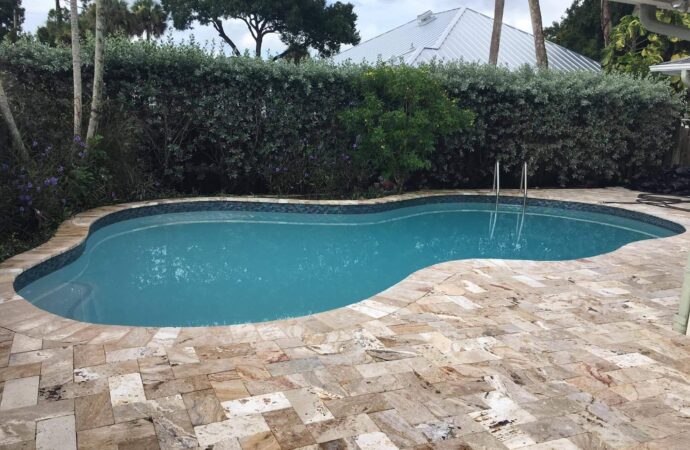 For most pool deck resurfacing projects, our clients tend to request brick pavers or stamped concrete. They are the opposite of each other in both price and aesthetics. But what if you want something different and unique? In case you have been searching for it, we recommend opting for travertine installation. At SoFlo Pool Decks and Pavers of Jupiter, our team can make this process seamless and simple. As a result, you won't have to worry about poor installation or how you will need to invest more in the short and long run.
We worry about your budget, preferences, and needs. Therefore, expect our contractors to work around them and find a balance so that you get the most out of the process. You are free to request multiple options and make sure to always let us know if you feel uncomfortable or are looking for something specific. Unlike other companies, we will pay attention to what you have to say, and remember this: you have the first and last word during your project. In effect, you are free to let us know when to stop, change, or add something during the installation.
Travertine is a great material if you doubt its quality and durability. To ensure you are confident about your decision, our contractors will guide you through the pros and cons. Hence, you can ask all your questions, clear doubts with us, and focus on how we can get you the best project done. We are here to ensure you are comfortable with the decision and to learn more about the material.
You will need to take care of the exterior and interior of your pool if you want it to last and bring all the good benefits of having a well-designed space that is beyond stunning but rather safe and comfortable. You want to make sure that the deck is not too hot for people to walk on and that it is non-slippery, for example. This will help prevent injuries and other dangerous situations. If this is your first time choosing a surface or resurfacing material, it is important to consider all pros and cons of the options available. Travertine installation is a favorite among people in Jupiter and all over Florida, and our team at SoFlo Pool Decks and Pavers of Jupiter can provide the most durable and long-lasting travertine surfaces. 
We can also achieve this beautiful look for you by working on the installation around the entire pool area and extra places based on your request. Just remember this: we want you to be happy about the design, but always keep in mind that longevity and durability need to come for you to have the best surface that you won't regret having.
Travertine is a beautiful material that can be used in many different ways. As long as you have professionals who are familiar with the functionality of travertine and can make it shine in your outdoor area, you will be able to create a unique look and texture.
When you are looking at the surface of your pool deck or changing it for personal reasons, such as probably because the current one may be an eyesore, or you want something new, it is badly damaged, and so forth, you want to make sure the next option will last for more than a few months.
When requesting our service or wanting to know more about Travertine, make sure you learn about all the benefits that come with its installation and how you can achieve the actual results you want and need with it:
Non-slip technology brings safety to your space and prevents any injuries. Swimming pools can be slippery, so you need to be cautious. You will love having more absorption in your space thanks to travertine as long as the installation is handled properly.

It is heat resistant. This means that it can withstand extreme weather conditions and scorching sun while keeping the surface cool and allowing all visitors and users in the space to relax and be worry free about how they can burn their feet when walking on the surface.

Travertine is quite durable. Because pool decks can be a place where many furniture, features, and items are constantly in motion due to foot traffic and people, it is perfect if you consider how long it can last focused on how much traffic there is and all the elements you can bring to the space.

It is remarkable for its longevity. Its durability ensures that the surface will not crack or become damaged easily for more than ten years, so you get longevity as part of the natural connection and result.

You don't need to spend a lot of money every month to keep the surface clean and neat. It is very low maintenance, and repairs are quite rare, and even when needed, they're affordable.
How to Get Your Travertine Installed
Our team at SoFlo Pool Decks and Pavers of Jupiter is available to help you throughout the process. We want you to feel confident and happy with your decision and that the final result reflects your happiness and satisfaction and how you rely on this surface.
For over 19 years, we have been installing travertine. We are confident in our professional's skills and experience. They have worked on both commercial and residential properties as well as small and large projects that took a few days to complete.
Pool decking is a critical feature. We know this, but many people underestimate the amount of work involved. We are always available to explain why pool decking is so important.
It is important to provide a safe space and surface for people to enjoy the pool.
Our job is to make sure you get exactly the product you need. We prioritize what is needed and what can be solved. We understand that you might be looking to have travertine as a first surface or to resurface an existing product. Regardless of what it is, we're here to help you with everything you need.
No matter what your project is, we will help you and ensure that you are happy with the result.
What Do You Need to Know About Travertine?
Apart from the many benefits, travertine is not able to withstand freezing temperatures. Cracks are quite likely to form, so don't treat yourself this way when there are other options available, and your current place or location is part of the city with freezing temperatures. Fortunately, this isn't an issue in Jupiter and all over Florida.
However, although residents are not subject to freezing temperatures, it is something to consider in the event of storms or hurricanes. The material is water-resistant, as is expected for pool deck surfaces; however, you should still be aware of the temperature of the water to avoid any future natural disasters.
If your pool is in an area that has a lot of dirt, it can cause porousness problems as well. This will mean your pool deck needs to be a little more careful than usual.
The best thing about this surface option is that it can be purchased at a very low price. You can get a square foot for as low as $5 to $34, but it is worth looking for the right company to ensure high-quality products and a professional installation.
We use only the best materials and tools to ensure a long-lasting and durable result. It is obvious that it will be spectacular when we worry about every detail, material, and the whole installation.
We will ensure that the materials and the whole project are reasonably priced. We will also do our best to work within your budget based on the size of your pool deck and how much effort the project will take.
Below is our list of additional services: