Pool Equipment Upgrade Services for Jupiter Residents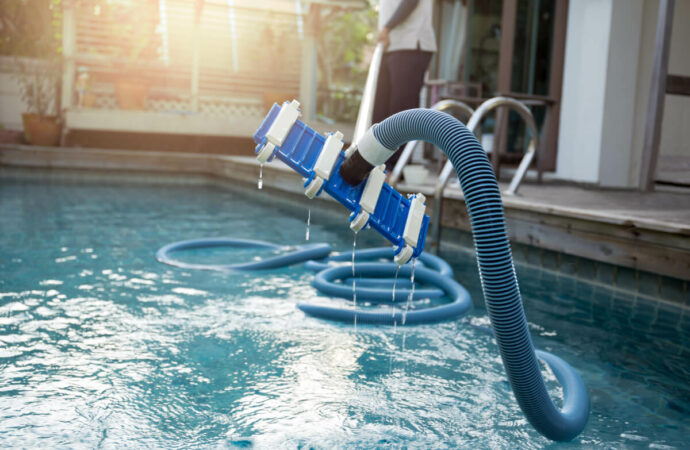 Aesthetical services or maintenance ones are what cross pool owners' minds all the time, especially when they have an entire pool area in place and not just the main feature. As a result, services such as pool equipment upgrades are ignored until they realize how their pool is crying for help. At SoFlo Pool Decks and Pavers of Jupiter, we are able to work on all the upgrades you require to keep your pool running and in good condition.
In case you are unfamiliar with the whole concept of equipment upgrading, it is working with the functional and performing part of your pool. In other words, the connections, pumps, and parts that keep it working are the priority. But unlike other companies that work on these projects, we can also consider upgrading some aesthetical features or systems you want to include depending on their general use.
Overall—and as an example—pool bubblers work to create fountain and waterfall effects, leading to a stunning pool. But because of how they use the water, you can improve all circulation and ensure that grime and sediment don't build up easily. Therefore, it is a good addition AND upgrade for your pool.
Other options, such as single pumps, automation systems, new connections, or changing your entire outlet and filters, can be considered pool equipment upgrades. In fact, they would be the main ideas and options that come to mind when you decide to approach this need for your pool.
What Is the Most Important Pool Equipment Upgrade?
---
It will depend on how you view your pool and the issues or changes you experiment with and want to make respectively. For fear of having problems with its performance over time, most pool owners opt for pump upgrades and change the entire system. The same occurs with filters and the essential parts of the pool itself.
We believe pumps and filters are crucial for their performance, but outlets and connections are equally important. This is why we recommend them in most cases and start there, so your system isn't affected massively.
But what if you are thinking about a more functional upgrade in terms of comfort? If this is the case, automation systems should be where you start, allowing you to control your pumps and systems remotely. As a result, you don't have to constantly check your pool or be present in order to turn on or off any part of the feature.
Our contractors love working with this upgrade as it benefits other areas of the pool, such as the pump and the parts that will be automated. Additionally, you can add more value and ensure the feature runs all day smoothly.
For commercial pool owners, this can be key in having their pools ready and a key factor for guests and visitors. As long as the installations are done properly, you won't have to worry about the quality and how they can negatively affect your pool's condition and performance.
Is Upgrading Your Pool Equipment Affordable?
---
In most cases, yes. The specific upgrade you choose or make is what will determine the price. Therefore, it is difficult to give you an accurate estimate unless we know the project you are going for. In addition to the variables in the upgrades, your pool's condition, type, and needs will add to the price.
Hence, you want to allow our contractors to inspect the space so that you can get a specific estimate for your project and have us work around it. In case you want more than one upgrade, the quote will be provided accordingly.
For us to give you an average, you should learn about the main equipment upgrades for your pool so that you can consider them and think about what you want to approach first:
Installing salt systems in case your pool is this type.

New pumps, such as single or multifunctional options.

The automation system for your features and connections.

Upgrading the small parts, which are equally important as the pumps. We are talking about connections, cables, hoses, and more.

Add aesthetical features that help with the pool's performance and functionality. For instance, pool bubblers and deck jets.
The automation systems are the most expensive in the majority of the upgrades. Everything can cost between $1.000 to $4.000, depending on the type and option chosen. Pumps follow them as brands, and the specific type will make it more expensive or cheaper.
Allow our team to provide you with an estimate by scheduling an inspection. In case you only want an average and avoid the visit, we can provide the quote when you contact us as long as all the information is provided.
How to Have Our Team Working on Your Pool Equipment Upgrades
---
All it takes is a call or email. We have been working on pools for over two decades. As a result, we know what each type and size requires, so the upgrade is worth the investment and time in the short and long run.
However, since upgrades are based on needs and even your preferences, we mostly need to inspect them so that we can make proper recommendations unless you already know what you want and need.
In either case, you can also use our contact form to ask all questions and have our team work on your project. Unlike other contractors and companies, we want to make the process simple from the very beginning. Hence, you can contact us using any options and expect our team to reach back in no time.
While you think about the upgrades or how you want to approach the service, we will consider your needs and your different requests. Therefore, don't be scared and let us schedule a visit or provide the information our staff requests so that we can give you the most accurate quote based on the circumstances.
Above all, let us help you understand why some upgrades may be better than others in your pool.
Below is our list of additional services: