Pool Deck Resurfacing for Palm Beach Gardens Residents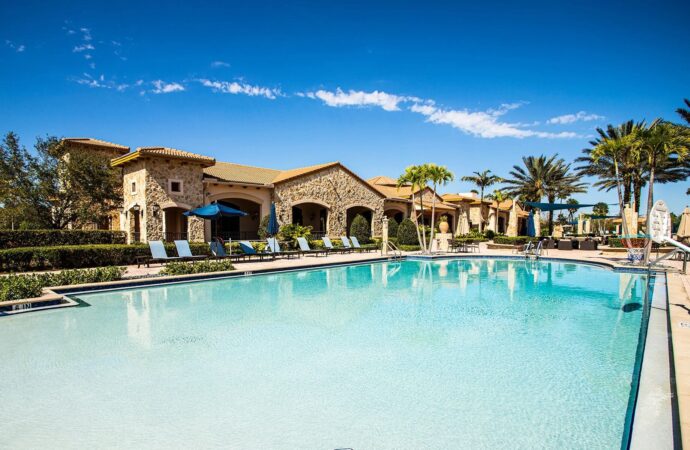 Owning a pool and an entire area means you will know that services are constantly needed. Some of them are not as often as others, but they still are a priority to keep your entire space in good condition. At SoFlo Pool Decks and Pavers of Jupiter, we offer our services to all Palm Beach Gardens residents so that you can have easy access to all solutions. The best part about working with our contractors is the quality we can guarantee. Therefore, you don't have to worry about poor pool deck resurfacing, repairs, or remodeling. We are here to ensure that every step is taken and your project is perfect.
To have our team work on your needs, you will need to take the initial step. First, contact us and let us know what you need. If you aren't certain about the service required, let our team know what problems you are facing or your ideas. Second, allow us to answer all your questions and clear doubts about the services. Finally, our team takes over the process. Unlike other companies, we will have control over the project but only to a limit. You always have the first and last word, but what we do is simplify the process so that you aren't overwhelmed with every step.
This is regardless of the service you request from our team. in general. You will have our full support and assistance no matter the solution or scale of the project. Therefore, contact us and give our team a chance to show you how enjoyable it can be to work on your project.
It can be difficult to find qualified pool deck resurfacing contractors in Palm Beach Gardens. Not many people place importance on quality over quantity and instead just aim at getting more clients and customers even when their services and results aren't the best, or maybe they don't have enough people and experts to actually take on all the workload just because they want more money. You'd be surprised at the number of experts who are unable to deliver the results you desire and only make you spend more than you need to or can even afford in many cases. Luckily, our team at SoFlo Pool Decks and Pavers of Jupiter is here to help you and can provide you with great services. You can be sure that your outdoor space will become durable and beautiful, and the pool area will be in the spotlight no matter where you are or if it is a residential or commercial space.
Our job and goal are to guide and support you through the selection process of the best service, products, styles, and materials based on your preferences and needs. We want you to be happy with your choices in the long term and short term. You should be able to have a pool deck that can withstand the tests of time and will provide great results for the next ten years or more.
We are here to make sure you have a plan and a design in place before you start this service. We want you to be happy with everything. To do this, we will make sure that you fully understand what you can expect from the pool deck and how it will last.
We have been helping homeowners and businesses in Palm Beach Gardens for more than 19 years. We are proud to show you what we can do, regardless of how large your property is or how much work it requires.
You can contact us to request the regular pool deck surfacing service or for more specific requests like pool deck repairs, pool lighting, travertine installation, installation of diamond brite, and much more based on the needs and projects you have in your hands.
We don't limit ourselves to just a few options. No matter which one you choose, we will give our best so that you get the service and results you want, and we can even help you with the entire process of working with landscaping and guaranteeing aesthetics and durability at the same time.
Should You Care More About Your Pool Deck?
Absolutely. After all, it is not enough to work on them once every several years, and you don't have to worry every day about them, but it is important to take care of the pool and work on regular maintenance or bring some changes over the years. This will prevent cracks and damage in certain areas and areas of your pool while also providing safety for everyone who uses it.
You want your pool deck to be safe and non-slippery. Resurfacing involves not only repairing any cracks or damage but also creating a new surface that meets all of your needs.
We will help you with the aesthetic part and bring all the benefits of focusing on this feature at home or on your business property.
Below is our list of additional services: