Pool Bubblers Installation Services for Jupiter Residents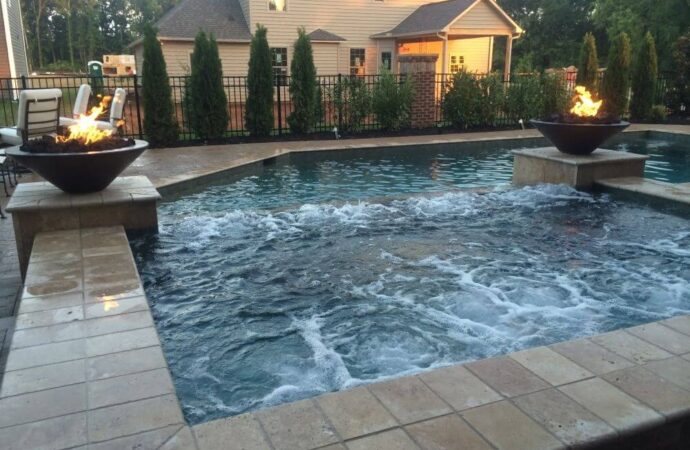 Water features can be quite expensive. Therefore, most pool owners ignore them and consider other options to enhance their spaces and landscapes. However, you can install pool bubblers if you don't want to quit the idea. As long as they are installed properly and you know in what space they will be placed, you can have a stunning effect on your pool. SoFlo Pool Decks and Pavers of Jupiter can help you with this process and ensure you are happy with the result so that you can finally have the waterfall or fountain effect.
The way we will do this is by first assessing and inspecting your pool so that our team can have an idea of how to place the bubblers. Then, we will focus on providing a plan and estimate that details every step and product needed during the services. When we finish and give you the quote, you will know what is required and how your pool will look after the pool bubblers installation.
Because how this feature is not often used, most pool owners aren't aware of its potential. We will start here if this is your case. As a result, you will be able to understand how the feature can create the specific design and result in what you want for your space.
As long as you are open to the option and want a water feature, we can guide you in what it is and how it can enhance your pool's appearance and functionality or performance.
What Is the Functional Part of Your Pool Bubblers?
---
How they help with water circulation. Since the feature is designed to work inside the pool, you will notice how the elements conforming to the system will work on its performance.
You have a pump, hose, and several nozzles or only one depending on the bubblers you want and the effect you are trying to get. Based on them, it is possible to improve water circulation as to how the feature will make the water rotate and work.
The installation is crucial if you want a good result that will be efficient and provide the desired aesthetical result. As long as you have our team working on the project, you won't have to worry about aesthetics and functionality since we understand how each factor is important to obtain proper installation.
With this in mind, we recommend focusing on your preferences and letting the feature provide its natural functional benefit. Our team will ensure this is guaranteed so that you don't have to worry about the entire process and how your pool will be positively affected.
How Does Pool Bubblers Installation Work?
---
Using the previous elements—pump, hose, and nozzle—we can install a system that will work around the pump. The entire concept of pool bubbles is simple from there, as water will look like a fountain or waterfall, depending on the nozzle used. In case you are wondering about the installation process and not how the system will work, it isn't that complicated.
However, knowing how to place the nozzles and ensure they are properly fixed is key. When this isn't the case, the result or feature will be easily damaged or won't look as you would expect.
At SoFlo Pool Decks and Pavers of Jupiter, we can guarantee that your pool will look stunning and have the water circulation you may be looking for. Unlike other companies offering this service, we will work around your pool's size and type so that we can get a result that is based on the landscape and specific style you are looking for.
Once we have assessed your pool and determined the nozzles needed, we can plan the installation. First, we need to install the pump. Sometimes, we have to include an outlet where the pump will be placed so that your system isn't overloaded with all the connections. Then, we will place the hose and move everything inside the pool. Finally, we place the nozzles according to the agreed-upon design and location.
Most of the time, it is possible to have the nozzles installed without draining the pool. But if the project is quite large and includes multiple of them, this would be the best approach so that the placement is done right and they won't be moved easily.
For How Much Can You Have Pool Bubblers Installed?
---
As we mentioned before, the best part is the price. You can have this water feature for less than a thousand dollars. In fact, you can spend less than $700 in most cases, as it all depends on the number of bubblers installed.
Our company will provide you with an estimate as long as you schedule a visit with our team. The inspection will allow us to be accurate on the quote, but in case you want to skip this step, make sure to give us all the relevant information. Doing so lets us give you a more accurate estimate of your pool's size and the project you have in mind.
Above all, we will work around your budget and offer multiple options if you are limited. For fear of prices, we know most pool owners don't want to tackle water features or any aesthetical additions. However, we encourage you as much as with maintenance and other services.
All you have to do is leave it to our team and you will have everything installed in no time and for a fair rate. Hence, feel free to call or email us for more information. You can also use our contact form to get a detailed estimate in case this is more convenient for you.
Pool bubblers installation is equally available for residential and commercial pool owners, especially if you have a large pool. Therefore, don't hesitate to reach out and work with us on all your projects.
To sum up, we are here to guarantee a clean result and a fair price and features you can love.
Below is our list of additional services: