Cool Deck (Kool Decking) Services for Jupiter Residents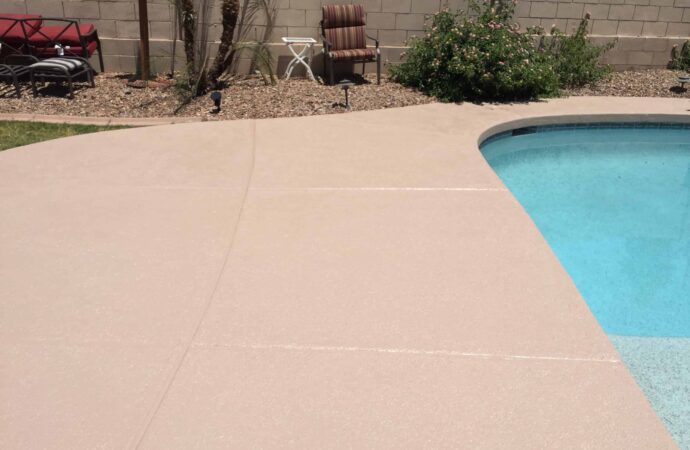 Your pool deck is just as crucial as the pool itself. While some people will focus on the pool's design and safety, they don't understand that the surrounding space will allow for a better experience. For fear of getting a good aesthetical result but missing durability, most pool owners don't know what surface would be the best or how to treat their decks. At SoFlo Pool Decks and Pavers of Jupiter, we recommend a cool deck (or kool decking) so that your space fulfills all needs: non-slippery, non-porous, stunning, durable, and affordable.
You can have our team of experts provide you with an estimate based on a free inspection we perform in your space. This way, you know how much you will be investing and why, and you can make any changes according to your ideas and project. In case you are short in budget, we are happy to let you know that kool decking is quite affordable and offers a great result when installed and done right.
Therefore, don't be afraid to give it a chance. Our team can introduce you to all the benefits and guarantee you won't have to regret your decision. In general, you have a lot of details and factors to consider. Hence, we review them with you not only when discussing the cool deck but also other resurfacing options. You will be able to compare different materials and focus on what's better for you. In case you choose the cool alternative, we will be here to make it happen smoothly and perfectly.
Whenever you decide to take on a new project for your pool deck or the entire area, you should consider or think about how slippery you want your pool deck to be. In case you don't know the answer or don't know where to start with this, it is simple: you don't want a slippery surface at all. You want to offer a safe space that won't bring any accidents nor open the possibility for them. This is why our team at SoFlo Pool Decks and Pavers of Jupiter recommends pool decks (also known as kool decking) since this option can be used to create a unique look and achieve specific goals such as having a pretty dry and non-slippery surface that is just perfect for your pool area. Our team has been providing this coating for residents and business owners for more than a decade. It is safe and comfortable for pools and quite affordable if you're tight with your budget.
This cool coating is available for pool decks of all sizes. You will need to learn more about it whatsoever if you want to make a decision around it and opt for this option available in Jupiter and for all residents and owners around the city.
We want you to be happy with the coating you have chosen for your space. You will waste more time and money on products that don't meet your requirements since you may be satisfied in the beginning, but it isn't the same to guarantee your happiness from the very beginning.
Before we get into the details of kool decking and why it is such a great option in Jupiter and nearby cities, we want to remind you that it can be used in many different ways. However, it is not the only option for pool deck resurfacing. There are many other options available. Feel free to ask for them or have one of our commercial or residential pool deck resurfacing contractors assist you with a larger project or provide all the information you want to know.
Why You Should Consider Kool Decking
When it comes to choosing a pool deck's surface or even designing your outdoor space, the problem is that many options available in the industry do not meet certain standards or are unable to meet all of your needs based on your preferences.
We know that pool deck owners are looking for a cost-effective option, one that can be safe, beautiful, and long-lasting. There are many factors and variables to consider. We want you to be happy with your choice. However, it can be difficult to find the right option.
When choosing the surface or coating for pool decks, there are two main priorities: a non-slippery surface and a cold one that won't be affected by the heat of the day and the weather conditions in Florida.
Cool deck (kool decks) is the ideal surface for homeowners and commercial property owners as it meets all their needs: cost, durability, aesthetics, and safety.
Kool decking can be installed and will last for at least ten years with very few repairs. It will also require very little maintenance. The cool surface of the space will not be a problem. This is evident in the name and the result you will get to experience right after the installation is completed.
This decking is versatile and can be used for almost any purpose. The main reason people choose to resurface or enlarge their spaces is that they like the way it looks or the options available, so you can just take the time to have a look at it and see if the aesthetical part convinces you as well.
It Can Be Used for Resurfacing & First Time Projects
Contrary to popular belief, it isn't only meant for resurfacing an existing pool deck or surface. It can be applied to existing and new concrete or just used as the main surface for the pool if it is new. We can apply it to existing concrete, so if your pool deck is already covered, we can simply use it to cover the surface and get you the desired results or have our team use it as the main option for the new pool deck you have built.
Cool decking and overlays can be used to create the entire surface. You won't need to worry about whether you are able to use this type of surfacing right from the beginning.
No matter how old or new the pool deck is, it can still be beautiful, safe, and well-maintained. We are also available to help you with the initial design of your outdoor space.
As long as your surface is clean and properly prepared, you can achieve any design or style that you want. If you need to resurface, we need to consider the repair and make sure that the new coating is not an obstacle but a benefit to your outdoor space.
SoFlo Pool Decks and Pavers of Jupiter will help you achieve a result that is satisfying and that brings all the benefits of having your entire deck resurfaced by our professionals with this cool deck option.
What Is the Cost of Kool Decking?
You don't have to worry about the cost of kool decking, which is why we often encourage anyone, with a large budget or not, to consider this alternative for their projects. After all, prices range from $3 to $5 per square foot; depending on how large your pool deck is and how much work it takes to install it, you will calculate the total price.
Resurfacing can be more costly due to the cleaning and repairs required. You will get a stunning result and a long-lasting finish whatsoever if you choose to go for our service and the cool deck option.
You can still choose from any of the available colors, and we'll be happy to help you. The cost per square foot will not increase if the color is chosen by you unless you want to use a different product or brand.
We are happy to give you a quote based on the size of your pool deck. Or, we can send our team to evaluate your space and determine how much work is required, the timeline, and the cost.
Below is our list of additional services: