Pool Deck Restoration Services for Jupiter Residents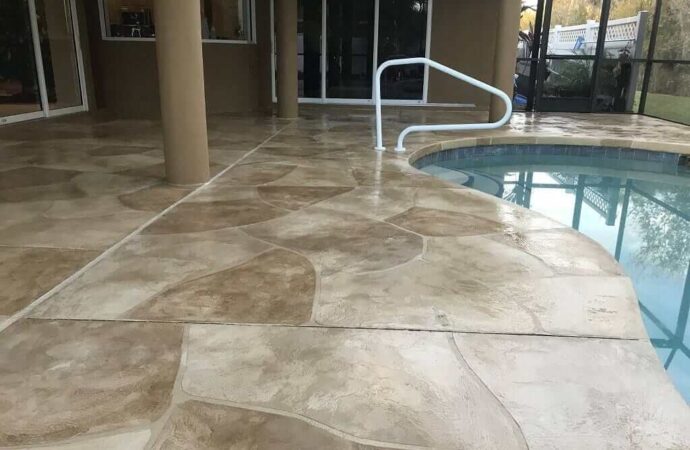 At SoFlo Pool Decks and Pavers of Jupiter, we consider that pool areas should be taken care of for multiple reasons. First, it is an extension of your home's overall aesthetic. Second, after all the time and money invested, you want a space to relax and enjoy what it offers. Finally, it is supposed to be safe and durable so that you don't have to worry about extra expenses. That is why we offer pool deck restoration services to help give your pool area a new and refreshed look. In case you are trying to restore that old space or make it a brand-new one with your ideas, we are here to make it possible.
Over time, pool decks can show signs of wear and tear. Cracks, discoloration, and even chipping can occur due to constant exposure to the elements and how previous poor services were done. as a result, you have a space that cannot be enjoyed, or it is not even safe for the space.
This is why in addition to all aesthetical concerns, safety concerns can arise from a worn-out pool deck, making it important to restore the entire area so that people can enjoy it and be worry-free about any part of the deck is a hazard.
Our team of qualified contractors has the necessary expertise to work on small or large-scale projects. This way, you can relax and be sure that your pool area is in good condition and has a new appearance. From repairing cracks and filling holes to resealing and repainting the entire deck, we have the experience to restore your pool area to its original beauty or a new one.
Is It Even Worth Hiring Us for Pool Deck Restoration?
---
This is a common question. As a company, we understand that pool deck restoration can seem like a project anyone can do, but we strongly advise against it. Unlike painting or other small projects for your pool, which professionals should still handle, it is a task that requires the right materials and plan. In other words, design, organization, and every process step are critical to achieving a good result. Otherwise, it is easy to have a poor restoration that will cost you more in the long term.
Our company has the equipment and materials to ensure that the restoration is done safely and efficiently. Attempting to restore a pool deck on your own can lead to costly mistakes and even cause further damage in the area. Additionally, you wouldn't know where to start or how to handle every step, such as resurfacing, filling cracks, adding features, and more.
Moreover, using the wrong tools and equipment can also lead to injury and expose you to dangers. There is no need for such risks when our contractors can provide all the support needed. Furthermore, the expense and estimate for the project can be even reduced thanks to how we work around your budget.
By hiring our professionals at SoFlo Pool Decks and Pavers of Jupiter, you can rest assured that your pool deck restoration project is in good hands. We use only the highest quality materials and equipment, and our contractors are trained to handle all types of pool deck surfaces. In fact, pool deck resurfacing alone is one of our top services, and you can get the most out of the different materials we offer for this process.
How Much Will Pool Deck Restoration Cost?
---
Whether it is a small or large-scale project, restoring your pool deck can be a significant investment, which is why we offer competitive pricing. Additionally, we have some financing options to help make it more accessible to homeowners.
We work with you to create a plan that fits your budget while still providing high-quality restoration services. You can ask all your questions, let us know your limits, and we will ensure you can have the project done without continuously worrying about costs.
That being said, the price for your restoration will vary depending on multiple factors:
Pool deck size.

Its condition and all the damage.

The design and restoration you have in mind.

Your materials and budget for the project and how you want to approach it.

How you have to work on the landscape to get a good harmony and balance.
Our team can provide you with an estimate for your particular project. But for this, we need to provide an inspection and estimate. First, you need to contact us and have our team come over. Then we will give you all the details and focus on the accurate price or close to what you are looking for.
The estimate can be provided even if you don't schedule the visit, but the average will often be a bit off due to how we don't know the entire situation and conditions. Therefore, choose and it can be changed as needed later on.
How to Contact Our Company for Your Restoration
---
All it takes is a call or email. You can also use our contact form so that you get full attention and support, especially when requesting an estimate or scheduling an inspection with us.
In conclusion, restoring your pool deck is not something you have to do alone. Our support, coupled with how we care about you and your project will be the key to getting the perfect result.
Remember that working on your pool deck restoration is about improving its appearance and ensuring the safety of all pool users. We have the expertise and experience to handle all types of pool deck restoration projects, big or small. Trust us to restore your pool area to its original beauty, keep it safe for years, and ensure your time and money are well invested.
Take the first step and from there, we take the reigns around what you expect and need.
Below is our list of additional services: