Pool Deck Brick Paver Services for Jupiter Residents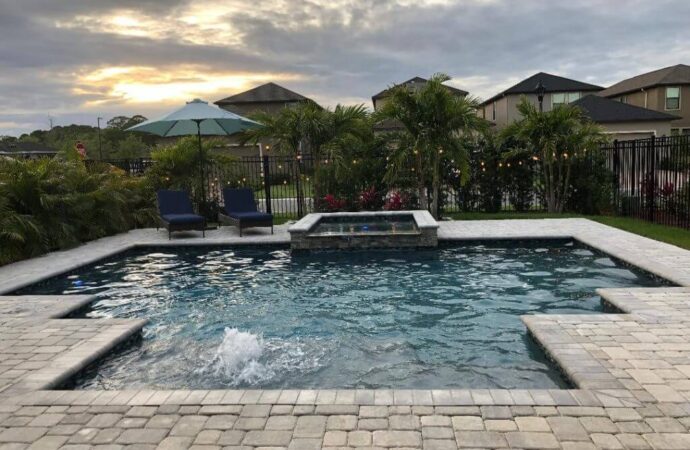 Pool deck brick pavers are common in Jupiter for many reasons. First, they are durable and long-lasting. Second, getting them for an affordable price with the right company is possible. Third, the traditional and classic looks offered are everything. Finally, you can repair and maintain them quite easily. Our company, SoFlo Pool Decks and Pavers of Jupiter, has been working with this material for over 20 years. As a result, we know what it takes to achieve a neat and smooth surface that will leave you satisfied and happy.
But where do we start with the entire project? Considering you need to take the first step, it is necessary to reach out to our team via phone or email. You can also use our contact form to ask all your questions and clear doubts with the staff. Consequently, we will schedule a visit so that our contractors can inspect your pool area and give you an estimate. This is completely free, and you don't have to worry about details or extra fees. By all means, you can expect great attention and you can take your time deciding whether you work with our team or not.
Overall, brick pavers are a good option for your pool deck. The issue lies in how the design and price can be an issue based on your preferences and needs. For the price, the square foot can range from $9 to $17. In the meantime, the design is usually classic and even with some color variations, it remains the same style. However, we can help you get a unique option as long as you let us know what you're trying to achieve.
There are many options for pool decks when it comes to resurfacing or just working on the installation of the surface for the first time. Among them, not many consider pavers to be a good option, but everything depends on the specific type you choose and who is handling the entire project so you can get a good result that is stunning and durable. SoFlo Pool Decks and Pavers of Jupiter can help you by offering pool deck brick pavers, which bring a unique, modern, and elegant surface to your outdoor space that will be non-slippery and meet all the standards for dealing with water and your regular problems and concerns when working in your pool area and having a new addition.
Pavers are not always considered the best because they can slip and fall off the more water gets to them and how the installation was performed, which is what actually influences durability and longevity.
Thus, when you focus on having this option for your own deck, always remember that it is all about good installations, professional services, and materials. It is important to ensure that contractors hired for this project or any pool deck or surfacing job are competent and capable of delivering the best results.
With over 19 years of experience in the industry, brick pavers are not a new thing for our team. We are experts in making sure your pool area is beautiful, durable, and lasts a lifetime. You get both without compromising one.
Our great results and excellent services are due to the quality of the materials we use and the experience of our contractors. We also focus on what you need and want at the same time. We believe the best quality materials should be used when clients can afford them. However, most people think otherwise.
We are proud to be able to provide great services at affordable prices. This is thanks to the partnerships that we have formed and the work we have done to find the best options for all Jupiter residents and owners.
Have you considered brick pavers to build your pool deck? Although most people will choose concrete or travertine, it is worthwhile to explore this option.
This Is What Makes Brick Pavers a Good Option
Focusing on the beauty of the product is the most attractive part for most people, but we consider durability and longevity due to our experience. Then, we consider the aesthetics and designs that can be obtained with it. Luckily for you, brick pavers have all in one.
This option allows you to create a distinctive design and style. It brings the traditional brick design but is less common than the other. The pavers are specifically made for swimming pools and have benefits and characteristics that are specific to the area in which they are placed.
You can choose from a variety of colors, so they can give you a different look depending on how you install them, what color you pick, and how you approach the project. Our experience has shown us how to create a durable surface that will not fade or lose its color over time.
Brick pavers for pool decks can be durable if done correctly. We will ensure that your installation is smooth and easy, so you don't have to worry about frequent maintenance.
Here are some reasons why you should choose our services over others and, more importantly, while this paver option is what you need for your pool deck:
There are many colors and options to choose from. This means you don't need to stick with one style or design nor feel trapped with the alternatives around the textures and styles you can achieve with the material alone.

It is possible to achieve a sophisticated and elegant look in commercial properties as well as residential pool decks, where the owners prefer the traditional design.

It won't be as difficult to clean up dirt and spills as other surfaces. It is super absorbent, so you don't get a wet surface but a dry one. This prevents dirt and other contaminants from getting on the surface, and you won't have to worry about how slippery it is since it will be the opposite.

You can't ignore the benefits of low maintenance. It saves you time and effort, and you won't have to pay attention to the pool deck every day.

A simple cleaning job, such as brushing, is enough. However, repairing or replacing some spaces or pavers will require the replacement of a particular piece or removal from the affected area, but this is a great benefit as it shortens the type you need to spend on it and reduces costs when repairs are needed.
What Is The Cost of Brick Pavers?
Pool deck brick pavers are more expensive than concrete or pool decks due to their higher costs in terms of the materials used to make them and how much time the installation can take. However, prices per square foot can vary from $5 to $40 depending on the brand and quality of the paver as well as who is providing the service, which means you can still find an affordable option when finding professionals who can work with them,
SoFlo Pool Decks and Pavers of Jupiter has a variety of options that will allow you to save money and still have beautiful results. We will help you get the best deal on your money and finance the project.
Remember to be specific about the style, color, and approach you would like. We will support and guide you as necessary so that you make informed decisions and don't get lost in all the details.
This is why we need to know the dimensions of your pool deck and the work involved when resurfacing. We will not install brick pavers at the beginning. Our team will design the space and inform you of all the details you need to agree with for us to start.
We will take measurements, assess the space, and provide a quote. If we don't have permission to enter your space or are uncomfortable with it, we can ask for as much information as you like for the quote.
Below is our list of additional services: