Pool Refinishing Services for Jupiter Residents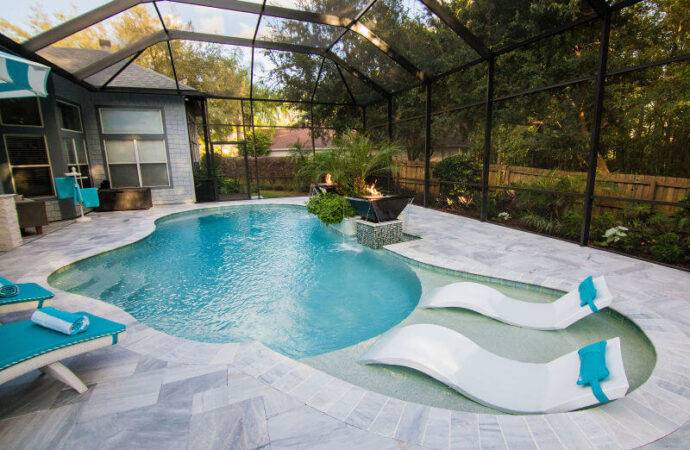 Just like your pool deck, your pool needs refinishing so that its condition remains stable and at a good level. Otherwise, it is common to experiment with cracks or deal with damage all over the surface. At SoFlo Pool Decks and Pavers of Jupiter, we understand that the concept of pool refinishing is kind of new. Therefore, you can allow our team to provide a further explanation so that you know why this service is needed in the short and long term to guarantee your pool's condition and performance.
To begin with, you will want to know that this refinishing is also known as resurfacing. In other words, you can consider and think about them as the same since they truly are and focus on how your surface requires a new coat.
Unlike pool decks, you don't resurface the pool with the same materials. Instead, you have to think about fiberglass, vinyl, and similar options so that the structure remains the same. Therefore, don't take this project into your hands unless you understand every part of it, from the materials used to proper application or installation so that quality and durability aren't compromised.
That being said, our team is here to make the entire process easier. We focus on your needs and ensure every step is done carefully so that your pool refinishing is neatly done. Otherwise, there wouldn't be a good reason for hiring us or relying on our company.
Is Pool Refinishing Necessary for Your Pool?
---
Like your pool deck, the pool structure can be damaged with simple use and extra issues due to the elements, weather, conditions, and more. Therefore, applying a new finish coat every so and then will allow you to keep it in good condition and focus more on your needs. But how exactly does the pool finish help you with it?
First, it will prevent cracks as the coat will strengthen and protect substances such as chlorine. Second, you will get rid of the existing crack and deal with all the current damage so that it doesn't continue affecting your pool. Finally, you will keep your pool clean since you will be removing any grime or sediment. Additionally, you don't have to use chemicals as often or in the same measure.
For this to be an actual benefit, you must focus on applying the new finish coat properly. Unlike other projects, such as painting certain spaces or dealing with some cracks, pool refinishing requires experts' assistance. Therefore, we encourage you to contact our contractors and have them perform a full service and process in your pool.
How Does Our Team Handle Pool Refinishing for You?
---
We need to learn about your pool's condition before we can give you a plan and idea of what to do. In other words, inspection is required so that our team can provide an accurate estimate covering the needs and preferences around the new finish.
As a company and actual professionals in the industry, we want you to remember that as long as you take the first step of contacting us, we will be there for you and your needs. Therefore, expect us to provide full support and service whenever you need to go over pool refinishing for your water feature.
With this in mind, our team will consider the aesthetics and durability of the project so that you have a finish that lasts and is worth your time and investment. We need to learn more about what you expect for your pool project and how we can help from there.
In other words, the inspection will be followed by listening to your preferences and needs around this project. In case you need a better look at how we will handle the process, those steps are what you can consider:
The inspection for your pool so that we can deliver an estimate.

We will design and plan your pool refinishing based on your needs and preferences.

If you decide to work with our team, we will focus on getting the finish done in record time but without compromising quality. Hence, you don't have to worry about poor services.

Our team will guarantee that you have to refinish every 4 to 5 years instead of 2 to 3. As a result, you will save time and money on the service as you own your pool.
Is Refinishing a Pool Expensive in Jupiter?
---
The average cost for refinishing your pool depends on several factors. The main is the pool size, followed by the type and surface condition. Hence, prices and fees vary depending on the specific project, especially when the pool is actually in bad condition, such as having many cracks or being extremely damaged.
Despite not being mandatory to get an estimate from our team, scheduling the inspection so that we can give you the quote is crucial for this reason: you get an accurate price based on your pool's needs and the actual refinishing process.
Therefore, give our team a chance to pay a visit and give you a free estimate. We understand that some owners don't want to schedule one for fear of compromising something or the service alone. However, unlike other companies, you can decide not to work with us or take your time to decide.
While you are at it and thinking about contacting us, we can tell you the average goes from $950 to $10.000. however, the latter is based on large pools in quite bad conditions and with special requirements. You can resurface your pool for less than $2.000 if it is more of a maintenance requirement.
In any event, we can help you adjust the refinishing and keep it within your budget so that you don't have to sacrifice quality or worry about the service. Contact us first, and as long as you give us information and want to move forward, we will be more than happy to help you with this service.
Below is our list of additional services: