Welcome to SoFlo Pool Decks and Pavers of Jupiter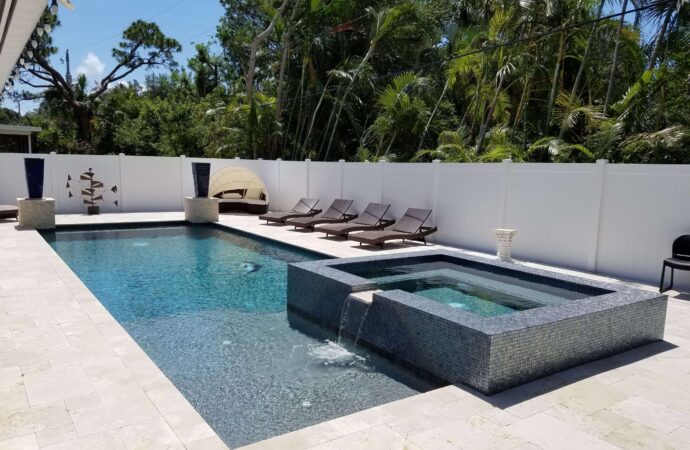 Working with a new company for your pool deck resurfacing needs is never easy. Most companies don't pay attention to detail, so the results they can obtain are not the best. Furthermore, you have to deal with high rates and poor support and attention during the entire service. If you decide to work with us at SoFlo Pool Decks and Pavers of Jupiter, you won't have to worry about this, so you can finally tackle that pool project you have had in mind for so long.
Our team is here to provide support and assistance for multiple services. Unlike other companies, we are focused on resurfacing your pool deck but also specialize in repairs, remodeling, and more solutions related to your pool area. As a result, you can have qualified experts for every single one of your needs, no matter the type of service you are trying to get. While you have us as the contractors, you can expect quality, affordability, durability, and the best attention.
Getting in touch with us is quite simple. However, before doing so, take the time to go over our services. Our website has all the solutions listed so that you can have a look at each option. This will allow you to have more control over your pool as a single company handles your ideas and needs. And don't worry; because of our experts and how we have trained them over the years, you won't be sacrificing quality at any moment. Each contractor will be specialized in the service you request.
It takes a lot to ensure that your outdoor spaces—including pools as features and areas—are beautiful, exciting, and clean. Florida residents spend a lot of time trying to plan how to manage their outdoor spaces and features so that they don't become boring or end up being a pit when it comes to spending more money and resources in maintaining them or having to perform more services. This is why experts and professionals are needed to help you with any project, such as installing the pool, landscaping, or dealing with the entire pool deck resurfacing or maybe remodeling process. Our team at SoFlo Pool Decks and Pavers of Jupiter can help you get the best out of your outdoor space and invest just as much money as you can afford, no more than that.
Pool deck resurfacing may not be for everyone. We will help you determine the type of service and solution that is best for your property and bring different services that will address your needs and preferences in this entire process.
For those who aren't that well known in this, pool deck resurfacing basically involves repairing or creating a new look for your pool and surrounding areas. You may want to add lounge chairs or create a beautiful area where everyone can relax and enjoy each other's company.
There are many ways to resurface a pool deck. Some include concrete or other overlay products that will make your deck durable and last a lifetime. It is important to decide if you want to keep the current look or if you are looking for something new. We can then make the necessary changes to your deck based on the materials and preferences you want and have.
We are here to help you, whether you're a homeowner or a business owner who has a pool deck that needs attention. Some people want a solid deck, while others need new benefits, such as products that prevent slippage or tripping or bring more longevity and durability to the space.
We will listen to your concerns and offer support. This includes explaining all options and helping you decide which one is best for your pool deck. We can also help you achieve a specific goal based on what service you are requesting from us. As we care about the enjoyment of your space, we will not only guide you but also provide other solutions.
There is a lot to consider and a lot of information to be processed. We want you to understand the reasons why certain materials, products, and tools are more beneficial than others, how to save money and how to make sure you get a long-lasting and durable result.
What You Need to Know About Pool Deck Coating & Resurfacing
After your pool deck has been built and used for a while, this service will be necessary to ensure that the surface is durable. You won't regret the money you spend, and you can trust that our experts will help you.
Resurfacing can make your pool deck more durable and long-lasting. Multiple coatings are possible, so you don't need to worry about cracks or filtration. Although it seems like a lot of work to do or something you have to do constantly, good services will guarantee that you only have to do it once every 8-12 years, and some surfaces end up lasting much more depending on the maintenance provided by the owners over the years.
The idea behind these two options, coating and resurfacing, is to allow you to create a new style and design for the entire surface. This will make it easier to work with older materials and ensure you get more durable and long-lasting results.
When working on the materials and selections for the space, consider those pavers, although great for driveways and walkways are not the best choice for pool decks. Problems arise when pavers can settle and move if they aren't installed correctly and require frequent maintenance due to their location. If you want to use them, you will need to select some made with specific materials or have experts that can actually guarantee a clean and durable installation.
Resurfacing and coatings of concrete and other materials based on your requirements will prove more effective whatsoever. You can save time, and they will allow you to enjoy the space for usually less.
The right sealer is required for pool deck resurfacing and coating. This will ensure that your pool deck stays stable and prevents slippage as well. It will protect your deck against daily wear and stains.
If you are primarily concerned with aesthetics and design, coating and resurfacing may be about the final look and the style you want to obtain for your outdoor space. If you request it from the SoFlo Pool Decks and Pavers of Jupiter team, we can provide new colors, textures, and score lines.
We will work closely together with you to coordinate the style of your entire property and the outdoor space. This allows us to combine the pool deck we need to resurface or coat with a new look. We can create many styles because we can use a variety of materials, such as concrete, stones, and granite.
What Is The Cost Of Pool Deck Resurfacing?
Prices always vary depending on the specific place, style, design, and materials used in this entire process. This is why you need to remember that quotes and costs will depend on who you are and what you need from our team.
Ideally, we need to assess your pool deck or entire area so we can come up with an accurate quote that you can follow. However, if you don't have time to allow us to check your space, we're always free to get some information via phone or email so we can send the details. This information includes:
The size of your existing surface or pool decks.

Your choice regarding the design and any additional features you need.

Your deck's location and how long it has been in use.

Repairs and additional services may be required depending on the current condition of the pool deck, and thus, this needs to be included in the final cost.

Your preferences and budget for the project. How you want it to look and how much you can afford in this process.
Before you hire our professionals, we will determine the type of resurfacing and coating that is best for your project.
To ensure that you understand the scope of work and what is required, we need to provide customized quotes. We will then provide you with all details regarding your project.
Many options are more costly or less expensive, depending on which option and design you choose for your pool deck. Original spray texture, diamond Brite or travertine installations, as well as other options for coatings and repairs, will all be more costly than regular options such as concrete itself.
Before we give you a quote or even an estimate, it is crucial to understand your needs and preferences. If you don't help us and comply with these details, you will receive an estimate that is far off what your project will cost, or it won't take into account all details of your space and what you hope to accomplish.
We want you to be happy with the service we provide. It doesn't matter whether you have an aesthetic, functional, or general need. We want to ensure you get the best possible solution so that you don't have any worries about resurfacing, coating, or other services.
Each service has an average cost, so we will provide you with a quote to evaluate your space and determine the final cost. Some homeowners and property owners may not be able to allow us to access their spaces immediately, or you might just want to know how much it could cost within a range. We recommend that you call or email us to give us information about your space and surface, but we can also provide some information and estimates based on a short or very specific range with the details you can offer us.
If you can go over this information and answer the questions below, we will be able to get you a better quote:
Are you able to identify the average or specific dimensions? Dimensions of the whole pool deck, that is.

Are you able to provide any type of specifications or preferences for materials and style?

How about repairs that you feel are necessary? You can get cracks fixed or new colors.
If we are unable or you're unwilling to give us access to your surface, we will give you an estimate around what you share with us only.
Remember to consider the type of service you require. We will give you more information if you are unsure of what you need and go over what you truly need to fix around your pool area or pool deck.
We Are Here Waiting for Your Needs
Allowing us to work with your pool deck or bringing the solutions right to your property depends on what service you ask for and how we approach your preferences and needs with pool deck resurfacing, remodeling or coating. There is a lot to consider, and we want to lend you a hand in making the best decision if you share your needs with us and are open to receiving recommendations.
SoFlo Pool Decks and Pavers of Jupiter has been serving homeowners and businesses for more than 19 years. We are confident that we can achieve the results you desire because we know the importance of using quality materials and having skilled professionals, and making sure everything runs smoothly when we finish a project you trust us with.
How can you decide how we will assist you? You can choose from any of the following services available in our company:
Request Your Service Today
Feel free to request any service or to let our contractors know your requirements so that we can help you determine the best way to proceed and the best way to get the best results.
We can help you plan and create a beautiful pool deck that will last for over a decade. It will also reduce maintenance time and give you a return on your investment since repairs will not be required as often as they are usually needed due to poor maintenance or other reasons.
Additionally, remember that our team is here for everything you need, not only to deliver a service but also to be supportive and provide information and details regarding pool decks, resurfacing, remodeling, and much more.
We understand that many property owners don't have a good grasp of everything involved with having pool decks. However, we want to make sure you don't have to struggle with it and that you can get the desired results for your outdoor living space.
Rest assured, our team at SoFlo Pool Decks and Pavers of Jupiter will work around your needs, preferences, and also budget. We worry about how much you need to spend in this process and how much you can afford as well.
We know it isn't easy, and our goal, besides delivering top services, is to make sure that you have enough time and resources to go over this project without sacrificing other aspects and elements of your life.
Contact us today and get your free quote from the team!
Below is our list of additional services: