Pool Deck Renovation Services for Jupiter Residents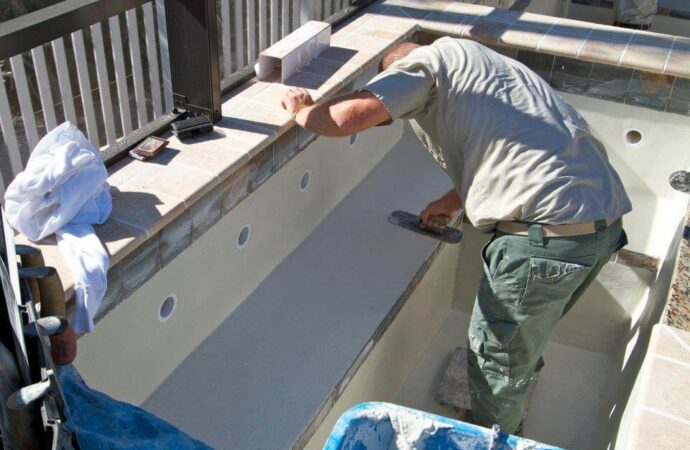 Working with a company that can provide unique and proper pool deck renovation services doesn't need to be difficult. At SoFlo Pool Decks and Pavers of Jupiter, we can provide you with all the support and attention you need so that even if it is a small-scale project, you can count on us for the task. Additionally, we are here for guidance and recommendations, which means you can ask us any questions and clear doubts with our team beyond just requiring our service for your pool deck.
Now, is it worth working with professionals for this project? In general, you don't want to opt for DIY projects for your pool area. This often leads to more expenses and safety concerns in your space as materials, equipment, and proper skills and expertise are missing. Therefore, you should focus on how professionals can guarantee the following:
A top-quality renovation that is balanced with your landscaping.

Durable and long-lasting pool deck to avoid future expenses.

Clean and top-quality materials to ensure the pool deck will be in good condition for a long time.

Good customer service so that problems with your pool deck can be dealt with properly after the renovation.
Our team can guarantee the best support and ensure the renovation is based on your preferences and needs. In addition to those two factors, we consider your budget and focus on making it an affordable and durable project without additional expenses or details. Hence, you can rest assured you will have everything in place and all factors will be properly covered for you.
Why Is Pool Deck Renovation A Difficult Project?
---
Because of everything it entails. While you can work on pool lighting, pool deck repairs, and more services, the renovation involves all of them at once—most of the time. as a result, you have a lot of areas to cover and need to make sure the materials and equipment used are the right ones. Otherwise, messing up the project and incurring more expenses will be easy.
What our team does for you is inspect the property and area, focus on what is needed, and come up with a design and plan that will underline every step. Above all, we will include the materials used and the number of contractors involved in the project.
Unlike other companies, we don't use the same person for every service. This won't lead to the project being more expensive. Instead, we keep the same fees, but we do it this way so that specialists can properly handle your renovation and projects involving multiple needs.
Thanks to our attention to detail and the method used, you can rest assured that every step will be handled accordingly. We also follow a specific process so that you get the best results for your pool deck. It is similar to the following:
We assess your pool deck and focus on your request so that we can have a good vision of your idea and project.

You let us know any preferences and any elements you don't want.

We will plan the process and go over each service and step needed. This comes with a free estimate for your pool deck renovation.
What Is the Most Common Service While Renovating Your Pool?
---
Pool deck resurfacing is one f the main steps in pool deck renovation, as it helps change the entire design. For instance, you can have stamped concrete in place, but going for brick pavers can change the style and help you design a new one. As a result, you mostly transform the deck with this service alone.
However, to perform resurfacing, pool deck repairs are needed as this will remove any cracks and discoloration. Although most damage can be solved with resurfacing alone, it will depend on your project and the deck's condition. Hence, the inspection just gains more relevance during this project time.
Keep in mind that our company will always list the services required. In case some of them are not actually part of what you would expect for renovation, we will let you know. For example, a pool equipment upgrade isn't a solution for a deck but rather the pool itself.
How Much Is Pool Deck Renovation?
---
At SoFlo Pool Decks and Pavers of Jupiter, we will provide an estimate based on certain factors:
Your pool deck size.

The condition it is in: damage, cracks, and needed services.

Specific changes and design you are looking for.

Your budget and considerations you want us to have.
Keep in mind that all projects are different. Therefore, having an average or estimate that applies to every pool deck renovation is difficult. However, the estimate is usually based on your pool deck size and the design you are going for the most. This is why inspections are so important, but the quote can be provided by giving us the required information.
Our contractors will keep everything detailed and ensure you have a good overview of the entire expense so that you can work on your project freely and know what is needed if you want to get a specific result. Hence, don't hesitate to contact us and have our team work on your pool area. We would love to bring all the changes and additions you need to enjoy your space again.
With this in mind, expect the renovation to cost between $5.000 and $30.000. Due to all the services and changes, the price can go higher and lower depending on how much you want to change or renovate.
Feel free to call or email our team today to have your estimate. We can also answer your questions via the contact form and ensure you know what is needed.
To sum up, we are here for small- and large-scale projects and residential or commercial pools. Therefore, don't hesitate to contact us.
Below is our list of additional services: