Residential Pool Deck Resurfacing Services for Jupiter Homes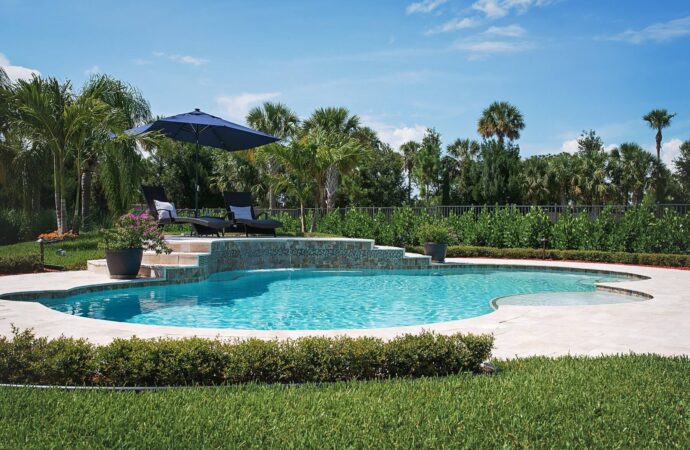 Owning a pool means you will need to keep an eye on the maintenance and additions in the future. Moreover, you must worry about repairs and the surrounding areas, not just the pool itself. This is why so many people consider whether it is a good investment. Or if it is something, they should have when services like residential pool deck resurfacing are needed. We can make your life worry-free at SoFlo Pool Decks and Pavers of Jupiter. As a company with over 20 years in the industry, we support and help with all your needs, including this resurfacing project.
Our contractors ensure you don't have to worry about details, quality, durability, and longevity. Furthermore, we are here to give recommendations and ensure you get all the support needed during decision-making. As a result, you won't struggle or feel like your pool area is leading you to the end of the world.
When working with us, we will help you understand that aesthetics and designs are important, but durability and longevity are equally important, if not more. Therefore, it is necessary to find a balance between what you want for your pool deck and what is actually needed. This way, you won't have to worry about the quality and how your pool area has performed over the years. Instead of worrying about looks alone, we help you focus on all the factors that make your pool deck safe, durable, and a good option to spend time in daily.
Many Jupiter homeowners don't consider resurfacing until they start experiencing problems like cracks, filtrations, or a poor appearance when the entire pool deck has changed or when the pool itself, in the internal part, begins to look a bit different from its usual self. Regardless of what is taking place, they don't know where to turn if they need help with residential pool deck resurfacing or don't even know if they need this service, to begin with. Fortunately, SoFlo Pool Decks and Pavers of Jupiter can help. We offer the best services and will make sure you are happy with the results, but before we jump right into the project alone, we will offer information and support in teaching you why you should be caring about all these elements in your pool area and why resurfacing is what you need.
Let's say you are looking for a way to get this service or you are trying to determine why you might need it. We recommend that you remember that pool deck resurfacing is not limited to repairing cracks or repairing damaged concrete and all the area of your pool deck.
Many residents in the area reached out to us to have their decks resurfaced to bring a new style and design because they grew tired of the existing ones they have. This will allow them to attract new people to the space and let them enjoy it without worrying or just have a new look that fits their current taste the most.
While the pool is essential, it's not the only thing that matters. You will also need a deck to enjoy the experience and bring a new ambiance to the space.
Before you decide to have our team work on your surface for different reasons and go over the entire process, how can you tell if resurfacing might be right for you?
As professionals, our job is to make sure you are aware of any issues or problems with your pool deck. You can usually tell if it is necessary by looking for cracks or damaged areas. Or maybe your entire concrete surface has begun to wear and cause more problems.
We will help you determine what is necessary and whether resurfacing the entire deck or other repairs is feasible. If you choose to hire our service, we will make recommendations and go over the process, so don't think our role begins and ends with the entire process of performing the service. Instead, we're here for all questions and considerations in this process.
Is Pool Deck Resurfacing Boring Once It Is Done?
Not at all. In fact, you have many options when it comes to design and styles for your pool deck and what you can achieve for your next surface. The design of your property and the pool area will depend on what you want and how much time you have available for us to work on it. You have many options, so it is worth taking the time to review them and decide what you want for your resurfacing project.
Remember that pool deck resurfacing can be used to repair and apply a concrete overlay to existing surfaces. However, it can also be intended for the creation of a new, durable, long-lasting surface. You also have the option to worry about the design and style, so rest assured you don't necessarily need to have your deck or pool damaged to rely on the service.
Jupiter homeowners are trying to find a new surface to match their different styles or remodel the entire space. It is important to be aware of all colors, textures, patterns, and effects for this very reason.
The overlay can be customized in many ways. We will show you examples and photos of all the options so that you can get a better idea of what they will look like once it is applied using our service and with our professional assistance.
Resurfacing is mostly considered for concrete and how the overlay is applied or poured over it, but it isn't the only existing surface that can be covered. We must remember that we have to work with concrete in order to achieve the desired results if this is your preference, but you have many more alternatives for resurfacing based on your preferences, needs, budget, and availability. 
Concrete isn't always the only material we use; there are exceptions. However, it is the most basic. It allows us to create custom designs and bring new styles and options to the outside while also providing a durable surface for our pool.
SoFlo Pool Decks and Pavers of Jupiter is here to bring all the options to the table, which is why we have over five different options for resurfacing:
Spray deck.

Travertine installation.

Eurotile.

Brick pavers.

Cool deck (kool decking).
There are many other options that you can choose from, and these will be discussed while you work on your personal space or review any designs that may interest you. Keep in mind that overlays and coatings can all be customized. This allows for different designs and styles when resurfacing your pool deck.
Our Profess for Pool Deck Resurfacing
When contacting our team for the services, keep in mind we do not mind if your area is small or large. This means that it does not matter how large or small your pool deck is; we are happy to help you and make sure you achieve the best results. If you have any questions about your deck, don't hesitate to get in touch with us. We will gladly walk through the whole process and ensure you're satisfied and well-informed before, during, and after it.
Thus, start reading here how we will handle this project for you:
Before applying concrete or a new coat of any material of your choice, we prepare and repair any areas in the pool deck. This will ensure that it lasts and won't bring new issues anytime soon.

We make sure the space is clear and primed.

Our team will mix all ingredients to make the mixture and apply it in the style you prefer.

Use the overlay with care and ensure you get the design you want.

All the textures and patterns can be added to the final result. This includes all features.

Seal it. Wait for the sealer to dry. Follow the steps provided after we have completed the resurfacing so that you can maintain your new result like new for years.
Contact us for a free quote. Our team will be happy to assist you throughout the process and offer all the solutions for your residential project.
Below is our list of additional services: