Pool Heater Installation Services for Jupiter Residents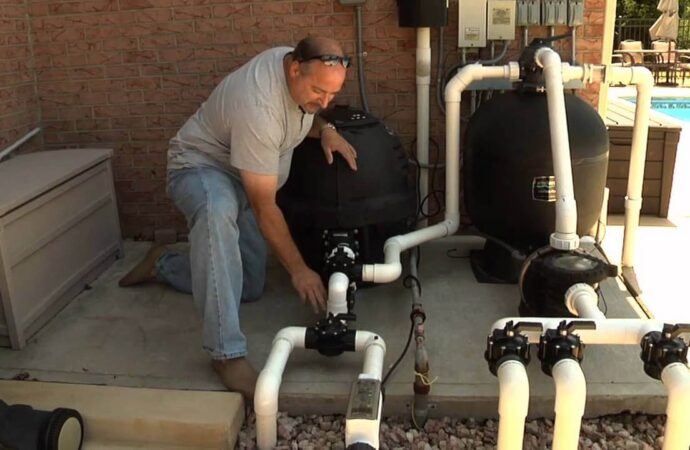 The pool heater installation doesn't sound right, considering Florida's weather. While you may be thinking this, it can be a good option when you consider how hard it is to use your pool at any hour. Because of cold nights and how the water is bound to get colder as night falls, you want your space ready for use. Installing this feature can allow this as you only need to keep it running or use it when necessary. We can make it possible at SoFlo Pool Decks and Pavers of Jupiter if you are open to some recommendations.
Of course, you can have an idea or heater of your preference, but our team's job is to ensure you install the most suitable one. This doesn't mean we won't listen to you, and in case you decide to go for a specific one, we will comply. Nevertheless, we consider your preferences, needs, and budget in the short and long run so that the heater installed is perfect in every aspect. Having an option you are comfortable with is good, but something durable and that adapts to your expenses is equally important.
Let our contractors provide some support so that you can get the perfect installation and work around barely any additional expenses. Therefore, take the first step and contact us for more information about this service. While you consider it, you can start by reading the details below that will help you determine if this is the option you want for your pool.
Is Pool Heater Installation Expensive for Your Pool?
---
Prices will always vary in this service and project as many factors are involved. Your pool's size, the type of heater you want to install, the brand used, and the specific size of the heater as well. As much as we would love to give you an accurate estimate, especially when you call us, considering all factors is crucial so that you can get the right price.
This means that our team will require an inspection or at least crucial information. Then we will be able to provide you with a quote that is detailed in everything: the connections, outlets, and all steps and materials to be used.
The heater's type will be one of the most influential aspects of the estimation as there are three different types, and they all vary extremely in price. As a result, you need to review the options and let us know if you have any inclination for the project, as your needs for heating water are equally important along with your budget.
On average, installing one can cost between $1.500 and $5.000. This includes labor costs—in our case—so that you can have a good picture of the expenses you will be assuming. The long-term expenses in maintaining the heater or energy bills are in addition to the installation, which means they have to be considered separately.
Our team will do its best to keep the project within budget and ensure that if you cannot get a specific heater, we find a solution for it. Therefore, don't hesitate to contact us and ask about the options available.
What Heaters Can Be Installed in Your Pool?
---
Electrical, solar, and gas heaters are the three options you can consider. Since all of them have different pros and cons, you want to consider them individually, even when you may have an inclination for one of them.
The electric option is often used to maintain the system running. A good example is commercial pools when you need the space to always be ready. Unlike popular belief, having the electrical heart in place is a good option due to how it maintains the temperature with little effort. You won't have to spend as much money either, and it won't consume any combustible besides the usual electricity.
On the other hand, solar pool heaters are more of a long-term investment. They can be quite expensive due to how solar panels work, but they pay themselves as you don't deal with electricity bills or gas.
It is a great option for Florida's weather as you can keep it running or turn it on most days of the year. Additionally, you get to help the environment and worry less about connections or the system's workings.
Finally, the gas heater is the most expensive long-term as it consumes the usual combustible. But unlike electric and solar, it heats the water quickly and saves time.
Because of the many options available, prices will only vary on this premise, and then, you have to add the other factors and considerations. In case of wanting an electric heater, the price can hit the $2.000 mark, while solar heaters can go up to $4.500.
The gas option is the same as the electric one, but everything will depend on the brand and the heater's size.
How to Get Your Free Estimate
---
SoFlo Pool Decks and Pavers of Jupiter is here to focus on your needs. Therefore, you can call or email us anytime to request a free estimate and inspection for your pool. We will give you a detailed plan and be specific about the installation of the pool heater.
You can ask about all our options and work around what we offer in terms of short- and long-term alternatives. As much as we want to follow your preferences, take the time to go over our recommendations so that you can save time and money in the short and long term.
We will be there for the full installation and ensure the result is satisfactory in every aspect. Unless you have a specific plan, we can review the different phases and work closely with you.
In conclusion, we consider you and care about what you get. Hence, work with us on this project and have your pool heater installed in no time.
Below is our list of additional services: