Pool Deck Resurfacing for Jupiter Farms Residents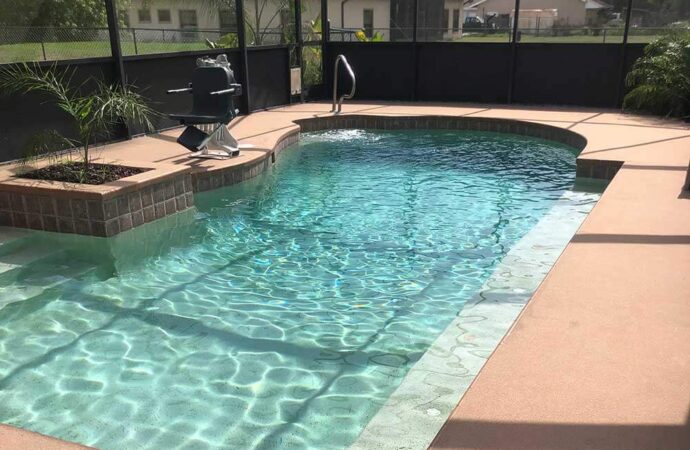 Jupiter Farms is one of those places that can surprise you if you give it a chance. With stunning properties and great attractions, you may even want to live in it. Do you already do? Then you probably have one of those stunning properties with a pool you have to care for. SoFlo Pool Decks and Pavers of Jupiter knows best, as we have been supporting pool owners for over ten years in the area. Our team can take care of anything related to the pool, from pool deck resurfacing to pool equipment upgrades. Therefore, contact us if you have any specific needs or projects.
We are able to guarantee top-quality results and ensure you have the best support throughout the process. Additionally, we care about your budget, preferences, and needs. This means we will come up with a balanced design and plan that will focus on all three so that you get the perfect result without affecting your finances. We do this by looking at your pool area and providing an estimate around your request and the service requested.
Our team is available all year round and you can come to us for small- or large-scale projects. As long as you take the first step, we will be there to support you and focus on how you can have your project done in no time. In case you have multiple needs and services are required, we will make sure to organize every step accordingly.
Resurfacing, remodeling, and just maintaining your outdoor features and surfaces will take a lot of time and effort. You can end up spending more resources and money when you don't have professionals that can guarantee a good result for your property. It is natural that you want to get the best results and avoid having to go over the entire project again because of poor service and materials. Find reliable contractors in Jupiter Farms, and you won't have to worry about quality, durability, aesthetics, and longevity. SoFlo Pool Decks and Pavers of Jupiter can provide all the support and assistance you need to complete your project. We will ensure that you are happy with the end result and that either if it is pool deck resurfacing or other solutions and services, you will be more than satisfied with what our team and experts can do for you.
We do our best to make sure that homeowners and business owners have a safe and enjoyable time outside. For it, we need to work hard and focus on each person's preferences and needs. Not all projects are the same, and standards must be kept if we want to make sure we have a result that will last and won't feel like an eyesore over the years.
Although pool owners don't usually consider resurfacing, it is important if the pool deck is very old or has suffered from poor construction or use over time. Resurfacing is often required due to poor maintenance or just damaged pool decks that have been used for a long time or people didn't work with them well. We are happy to assist you if the reason for your visit is more aesthetic, such as bringing a new style or achieving a different result, as we consider this is valid as well.
As important as it is, resurfacing does not have to be all about repairs. It can also provide a new coating of durability. Some homeowners, in particular, want to change the color of their pool deck or perhaps get bored with the existing style. We will help you navigate the process to ensure you get a beautiful result that doesn't feel like an eyesore.
Enhance Your Outdoors & Pool Area
We are happy to help you if you are more concerned about aesthetics than the actual repair of your deck or pool.
We are not like other Jupiter experts since we prefer to work with the lighting and pools as opposed to the deck, and those aren't common services offered by resurfacing contractors. However, we are excited to be able to use those features because they directly enhance your outdoor space's beauty.
All residents and businesses within the city can use our services to have their pool decks repaired or bring a new style and design their way. We can handle any job, no matter how small or large. Our professionals will work on your specific needs and deliver top results.
For any of our services or to discuss how we can assist you with your pool deck, please contact us. We will offer a customized quote based on the information you provide and the service you require for your pool area.
Below is our list of additional services: