Pool Repainting Services for Jupiter Residents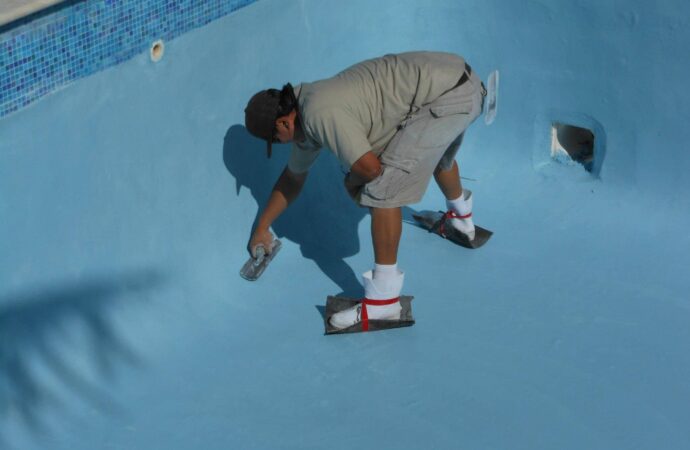 Pool repainting is a service that is required more often than you would believe so. Although painting isn't the best option for pool resurfacing or finishing, it is a common option as it is affordable and provides aesthetically pleasing looks. But unlike others such as fiberglass, tiles, or even vinyl, it is less durable, and hence, it leads to long-term expenses as repainting may be needed more often. At SoFlo Pool Decks and Pavers of Jupiter, we can help you make the process more bearable. While other companies will only worry about continuously making you need the service more often, we will focus on quality.
In other words, having our contractors provide pool repainting means two things:
You get neat and stunning paint for your pool surface.

The new painting will be durable and long-lasting, so that you invest less in the service in the long run.
How can we guarantee this as a company? First, our painters are well-trained and properly equipped. Second, we only use top-quality paint and products so that we can get the best results starting with what we use. Third, we focus on your needs and preferences. Finally, we care about your budget so that you don't have to worry about expenses, and you won't have to sacrifice quality as a result of the price.
This is why working with us is the best option, as we truly care about you and your project. Additionally, we will include you in every step and listen to changes you want to make before and during the repainting process.
Can You Repaint the Pool on Your Own?
---
Painting is a task most people consider handling themselves. Unlike refinishing, resurfacing, or working with materials like concrete and fiberglass, paint feels more approachable. However, you have to consider that knowing how to do it well requires experience, especially when it is for your pool.
Therefore, the answer we can give you is yes, you can repair the pool on your own, but it will be far from the result you want and need.
What our contractors and painters do differently is chosen the right type of paint, utilize the best equipment, and focus on proper technique so that the result is perfect. Overall, we want to achieve satisfaction, but ensuring you are happy with a result is more ambitious than what every company should aim for.
How Does Our Pool Repainting Process Take Place?
---
We follow some steps so that we can guarantee a good and neat result every time. Although variations can happen, it is similar in most projects for this service.
Before even starting, we will inspect your pool and give you an estimate so that you know the fees and what your pool requires.

When you start working with our team, we begin the process of repainting your pool.

We have to drain the feature and ensure all elements are in place.

Our painters will scrape away loose paint and leave some parts depending on the condition.

Repairs such as cracks and hollow spots will be dealt with.

We have to rinse and scrub with specific products to remove the remaining chemicals and oils.

Pool acid wash is often needed so that the surface is roughened and ready.

We tap any lights or features that don't need to be painted.

The painting process starts after we apply the primer. Therefore, there is a moment we need to let the pool dry.

Once we finish painting, it requires drying, removing the painter's tape, and filling it with water again.
In case you have any special request or extra service, we will work around it during the repainting project. In other words, you can ask our contractors to deal with some repairs around the pool area or let us know if you have some needs, especially if it is in the pool structure itself.
Is Pool Repainting Expensive?
---
We always recommend considering this before you decide to paint your pool so that you know common expenses and if this will be a recurring need. However, if you are already in the boat and clearly need the service, you must know everything varies and depends.
In general, you have to consider the pool' size, type, and condition. This means prices and rates vary depending on how your pool is and if it is too large. For instance, you will have to spend more in case your pool is in bad condition due to the extra repairs and prep work needed. In another case, the pool is probably small and for this, you don't have to worry about price in most cases.
We can provide an estimate at SoFlo Pool Decks and Pavers of Jupiter if you give us all the relevant information. Hence, let us know your pool's size and condition. The number of square feet will be what influences the entire project and average the most.
Now, what we often recommend is allowing a free inspection so that we can provide you with an accurate estimate. Then, you can take your time deciding whether you want to work with our team or not. Unlike other companies, you don't have to compromise on anything with us. Moreover, we even encourage you to let us be there if you are unsure if you can tackle this project.
To sum up, a quote can be easily provided. But if you require an average, pool repainting can cost between $870 and $4.000. because of variations in paint and products used, the price can go higher as well.
Contact Us to Repaint Your Pool Today!
---
Our team is always ready to take on a new project and challenge. Therefore, feel free to call or email us anytime so that you can have the paint properly done and you won't have to worry about doing it more often than needed.
To clarify, we take on small and large-scale projects equally. Also, we consider durability and longevity, but we know that aesthetics are equally important for you. Hence, expect us to provide full support based on what you imagine and want.
Below is our list of additional services: