Pool Deck Repair Services for Jupiter Residents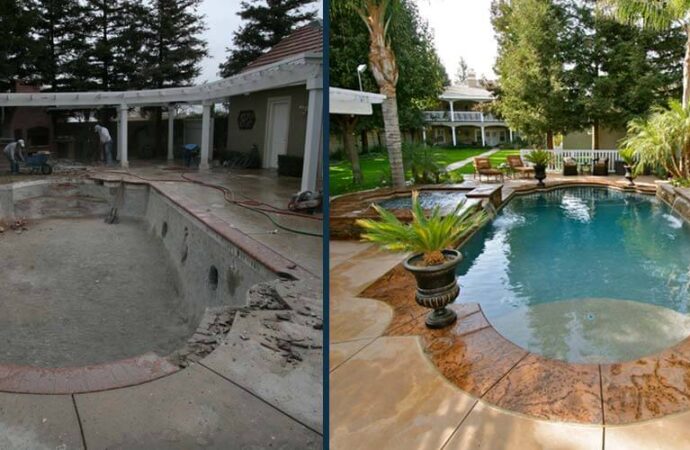 Keeping your pool deck in good condition is a duty, not because of how you perceive the deck or the aesthetical part only but rather to keep everyone safe and ensure everyone can have a good experience. Therefore, keep an eye on cracks and any damage and never delay pool deck repairs so that your area can be open all year round. At SoFlo Pool Decks and Pavers of Jupiter, we can help you keep everything in check and deal with the cracks, discoloration, and all damage in your pool area.
Working over different types of repairs takes a lot of time as you need to consider how each one should be handled. Or focus on how you need to think of a full solution that could get rid of multiple problems simultaneously. Since this is a lot of work and requires experience, rely on our contractors to do it for you. as much as we understand that you may want to save some money in tackling repairs on your own, this leads to more expenses 99% of the time. Therefore, get in touch with our team and have us bring all the solutions for a fair rate.
We must assess your pool deck first and determine all the required solutions. Knowing about the damage and the different problems can be easy if you provide us with the details while contacting us. However, we prefer to schedule a free inspection so that you get an accurate estimate as we see how your pool deck's condition is.
When the decks are properly installed, and the materials used are of high quality, pool deck repairs are rare; they are not impossible to need or avoidable, but they are definitely reduced when the entire pool deck is made with the utmost care and by qualified professionals. Many pool owners in Jupiter have experienced problems with their decks' installations over the years, indicating that most of their pool decks weren't that well-built. They need to find contractors that can repair the deck and ensure it lasts so they don't have to suffer from recurrent repairs. At SoFlo Pool Decks and Pavers of Jupiter, our team has been servicing pool deck repairs for more than 19 years. We have consistently provided top-quality results and services so that your outdoor space is safe and beautiful and that it restores the original state or even brings a more durable deck to your property.
Based on the size of your pool and the age of your deck, we know exactly what you need. We will immediately address any damage to the pool deck that has been caused by external sources and guarantee that every part of the deck won't bring more problems in the near future.
You must be careful with repairs and use only high-quality materials to ensure a long-lasting pool deck, and this is exactly what we do. But we also want to remind you that a pool is an investment. You don't want it to be a constant expense. You want to be able to enjoy your space for many years without having to worry about every detail.
Our team is available to repair any cracks or other damages to your pool deck. It doesn't matter whether it is a major project or just a few minor cracks that you need to address as quickly as possible. Because of how safe the repairs will make your deck, you won't have to worry about anything else since we will be there to help you to guarantee it.
It Isn't as Easy as It Seems
Everything depends on how the pool and deck have been maintained or managed before, so needing many repairs or not is usually not a coincidence but rather a consequence. There are many solutions to different types of damage. Although it is best to use top-quality materials, the final outcome and the quality of the deck will also be determined by the professional.
We will assess your pool area for any superficial damage, such as cracks or faded areas, due to time and use. It is important to inspect everything on the deck and the space, including the pool itself and further areas that can be connected to the pool. Some cracks and problems can be caused by how the pool filters water or if the crack connects to a particular area of the pool. It is important to assess the damage and determine if actions are necessary.
We also know that many pool owners are concerned about their finances and what they can afford when it comes to pool deck repairs, so don't think we will act without notifying you first.
SoFlo Pool Decks and Pavers of Jupiter strives to provide affordable options. We won't force you to handle your repairs right away since we know you may not be able to finance all of them at once, but since we care about making sure you enjoy your place and things don't get worse, we plan for affordable services and possible repairs within what you can afford. We want to help you avoid more problems and severe consequences. That's why we encourage our clients to let us assess their pool decks and then provide a quote that is based on their budget.
We will provide all of the information necessary to identify and address the major issues and damages in your pool area. This will allow you to understand why we have chosen a particular approach or what other options are available.
For a quote or a visit, we will need to know a bit about the deck's design, structure, function, location, and any other details that might be relevant.
We Handle All Types of Repairs
The most common problems are discoloration and cracks in the surface, so you can expect us to deal with them quite easily and in no time. Now, what you ought to know is that discoloration is dependent on the surface material and whether it was chosen for a long-lasting or low-quality finish.
Cracks can be fixed with different materials. For example, brick pavers can be repaired by replacing each individual paver. Because each paver is usually small, it is best to remove the damaged paver and replace it with a new one. It takes very little time, but it is important to take care not to damage any other pieces. Also, ensure that the new paver will fit properly and stay in place for at least ten years.
Tiles and other materials can be repaired in a similar manner, but concrete and other materials require us to either resurface the surface with a new option or repair the cracks by pouring more material.
We must ensure that water doesn't seep through cracks when we are repairing them. If water seeps through, we need to make deeper repairs to prevent the entire surface from falling due to the water and moisture that can get into concrete, pavers, tiles, and more.
A new coating is often enough to correct discoloration. Depending on the size and discoloration of the pool deck, we will either resurface it or refinish it. Or you can choose to use a different material, depending on your goals.
Our team can also deal with spalling, dents, and other issues. For pool deck repairs, please contact us. We will assess your space and give you a quote so you know how much it will cost and provide the timeframe in which we will be done with the entire project.
Below is our list of additional services: