Pool Sun Bench Installation Services for Jupiter Residents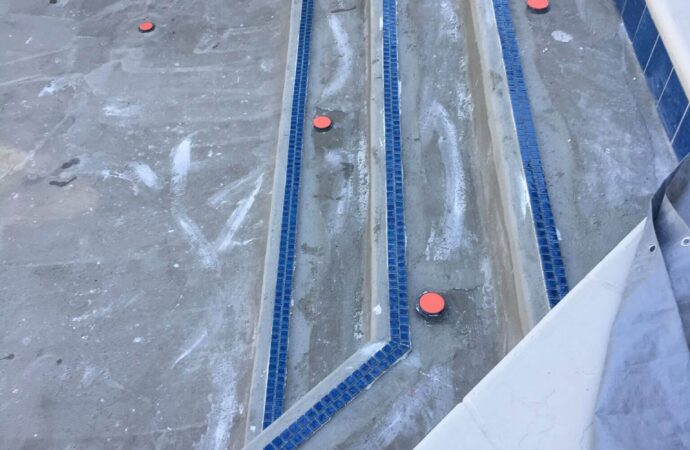 Post services or solutions focused on maintenance for your pool area aren't everything. Yes, you need to worry about them, but this doesn't mean you have to prioritize them in every case. As long as you keep the main ones in check, you can work around specific additions or features. A popular addition is a pool sun bench installation. This option is one of the best in case you want a feature inside the pool that is aesthetically pleasing and functional. If you like the idea, our team at Pool Deck and Pavers of Jupiter can help you with the process to guarantee a good result.
Pool sun benches aren't part of the main options among pool owners until they realize they can add to the property's value. This feature is all about adding a part to your pool that allows you to relax after a long swim or chill without issues. Therefore, we are confident you will love it as much as bubblers or water features around your pool area.
What it takes to guarantee a clean result is using the right materials and focusing on proper installation. Our team is here, and we can give you a free inspection plus the estimate so that you know what this installation will entail. Unlike other companies, we will consider your budget and preferences during the estimation, so feel free to ask all questions and clear doubts with us.
Why Are Pool Sun Benches Being Installed More Often?
---
Because of how they offer aesthetics ad functionality, you can enhance your pool's appearance when the bench is designed and built properly. While you are at it, functionality and comfort will be added due to the feature's main use: relaxing and sitting on it.
To clarify, this feature truly meets the main purpose of a bench. However, the design and how it can be installed inside the pool itself allow for a unique style. As a result, you can have more than a place to sit.
The specific place where you install yours will also add more or less functionality. For instance, you can have it on the edge of the pool regardless of its specific extension. But if you want it in the entry steps, this will allow for more comfort.
It is about knowing how to work with the design. Hence, you want a company that can provide full support. This includes working on the plan and each step so that the bench doesn't end up being an eyesore or obstacle while using your pool.
That being said, people love them more each day because you can relax and how it works for residential and commercial pools. In addition to any feature you can offer your guests and clients, having the sun bench will allow them to spend more time inside.
In case you own a residential pool, we are confident that swimming or just chilling inside will be equally important and enjoyable for you with the next bench.
Can Pool Sun Benches Be Installed in Your Pool?
---
As much as we want to say "yes," it will depend on your pool type and size. We don't recommend having it in very small pools since this will take too much space from your feature. You will sacrifice comfort under those circumstances and deprive yourself of more swimming time. Therefore, you can have it installed in pools that won't be affected by it.
The finishing or surface of your pool also matters. Depending on the material used and how the entire space is used, you will have to consider the installation. But don't worry; in most cases, installing the sun bench with proper design and planning is possible.
Our SoFlo Pool Decks and Pavers of Jupiter team can work with you to make this possible. Since we have been installing sun benches for over a decade, we can guarantee clean and satisfactory results for multiple types of pools.
For instance, infinity pools and recreational ones can benefit from the feature. We will ensure that if it is granite, fiberglass, vinyl, and even painted, you get the bench installed properly so that everyone using the space can relax and get the most out of the feature.
But before we take on this challenge, w would like to inspect your space so that we can give you an estimate and let you know how this pool sun bench installation should be planned.
Contact us today and have our team work on your project. We will give you all the details ad introduce you properly to the idea of this sun feature. Then, our contractors will work around the preferences you have and what it can offer in terms of aesthetics and functionality.
How Much Are Pool Sun Benches?
---
Prices vary depending on the size, where it will be installed—the specific area of the pool—and the materials used. In most cases, you can have one installed for about $1.900, but prices can increase if the materials used are granite or those in the high end. It can be lower when the pool sun bench is small and of a very specific material.
The inspection will allow us to give you a proper estimate so that you can work around your budget or let us know about any needed changes. Additionally, we can get you the specific design and help you work around your needs and project idea.
Contact us today for your quote and finally get a pool feature worth your time and effort.
To sum up, we are here to make the pool sun bench installation possible under the durability, affordability, and aesthetics factors so that you don't regret the decision. Hence, you don't have to hesitate to contact us and have our contractors work on your project immediately and regardless of location.
Below is our list of additional services: