Spray Deck Services for Jupiter Residents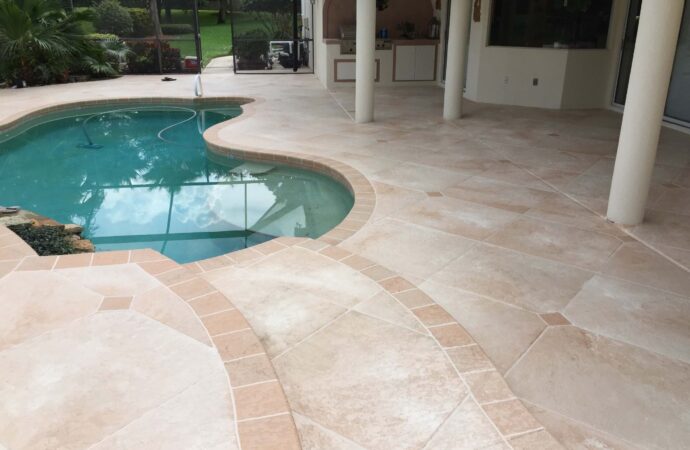 Choosing a material for your pool deck resurfacing project is a challenge. With so many options in the market, it is difficult to determine which one will be the best. At SoFlo Pool Decks and Pavers of Jupiter, we can lend you a hand so that you find a balance in what you need and like out of all the options. A spray deck is one of the top options for affordability, aesthetics, and durability. Due to its application and how we can customize the design for you, it is possible to get a good mix of what you need for your budget, preferences, and longevity.
Because of how unusual this resurfacing is, we understand you will want to learn more before deciding. Therefore, our contractors will go over the details and information so that you learn everything about spraying your deck and how it works. Essentially, it is all about concrete and how it is used while mixed with the color and getting the texture you want. There is a lot to know about the project. In case you already understand how this resurfacing works, move on with our team to start working on it.
It is possible to have our team work on your project with a single call or email. Our contact form is also open all year round so that you get in touch with us easily and without major difficulties. As long as you take this first step, we will handle the rest in the future. Allow us to be there for this process and continue learning more.
All pool owners will require pool deck resurfacing at one time or another, or more like sooner than later in several cases. However, you shouldn't be happy about needing it since this often shows that your pool deck wasn't properly installed or that it is being damaged quite heavily. Therefore, the longer it takes to need the service, the better. Regardless, if it is needed, just focus on finding experts that can help you in getting the best resurfacing result and bring in different options to apply a new coat. In the case of affordability and great results, a spray deck can be a great option. At SoFlo Pool Decks and Pavers of Jupiter, our team is well-aware of how this method works and how many benefits using spray brings since we have been offering the service for more than 11 years. 
It may not be right or feel attractive for everyone because of the design, but it is an option for those who are looking for durability and affordability while they aren't too picky about the final style as long as it looks good and compliments the rest of the space.
With the spray pool and the product available, it is possible to resurface any surface or pool deck in no time. You won't need to spend more than $7.000, and you can even aim for lower prices. Finding professionals who are skilled in working with the product and material will ensure that you are satisfied with the final result. This will make it last for many years, and this is where the tough part comes.
We are proud to offer this service, as we have been serving pool owners in Jupiter for more than 19 years. We are proud and confident in our ability to resurface your pool with a spray deck. This is due to the high-quality materials we use, the skills of our professionals, and how we concentrate on what you need and want simultaneously.
Re-pouring concrete, brick pavers, or natural stones are all popular options for pool surfaces. Still, they can become expensive for some homeowners who are, specifically, trying to stick to their budgets, or maybe they do not have any expensive preference for some materials and options.
What's All The Fuss About Pool Spray?
Pool deck resurfacing can be done in a variety of ways depending on the surface and the materials used. This spray option gives you a textured product to cover the existing surface and another that can be used over it.
It can be used in areas where concrete was used as the main surface. This is because it covers up the surface and imitates the texture and design of what can be obtained with cement as the main material for your surface. Concrete is the best "foundation," so even if there is damage, it will provide a clean and neat resurfacing result. You won't need to spend much more on the whole process.
You have a wide range of textures and colors that will make the spray unique. It isn't the most beautiful surfacing option, but it doesn't make it ugly or a bad option when you look at the pictures and results that can be obtained with it. It all comes down to perspective and preferences. You will have to make a decision based on your needs, budget, and desires for this project.
Our team can provide more information in case you are questioning the choice, and we will make sure to explain every detail about how this coating works.
Pool or Deck Spray for Your Space
You can narrow down the choices so that you can pick the one that best suits your needs. There are specific options for each element involving this spray alternative: color and texture.
This spray can be applied to a smooth surface, allowing you to continue using concrete or similar resurfacing options. Or you can go for the more rugged design that is inspired by how professionals use the spray to cover any existing surface.
Pebble and bubble finishes are very common. However, you don't need to settle for a smooth finish if you want something unique to complement the pool or if you have a particular design in mind, or maybe you do want it and are worrying about being able to achieve it with this spray. Well, you can.
You can choose almost any color due to the nature and manufacturing process of the spray.
The most popular shades are those that suit classic and traditional designs. These are the colors we recommend if you don't want to make any changes or just want to have a neutral look. You can also choose from deeper colors, such as gunmetal and terracotta.
Why Is Pool Spray a Good Option?
It is not only affordable and durable, but it also has a lot of benefits. These two factors make it a great option for resurfacing alone, but considering how it prevents most damage and repairs from taking place too often, you will love having it. Most homeowners and commercial owners can have a beautiful new surface and result without spending a lot. They don't need to be concerned about how it looks, and they can achieve different results depending on what they require.
It is slip-resistant and heat-resistant, contrary to popular belief and what you might guess from the idea that spray is. This makes it perfect for pool areas and is nothing like brick pavers or concrete, although those two offer great surfaces as well.
It all depends on how skilled professionals handle the spraying process. Also the quality of the product used will also depend on the standard.
SoFlo Pool Decks and Pavers of Jupiter uses only the best products. We make sure that our services are of exceptional quality. If you don't have the means to pay for it, or if it's not necessary to achieve the results and needs that you desire and need, we won't pressure you to spend too much.
We will spray your deck and create a surface that can withstand all weather conditions. Contact us to request a quote and get started on your deck.
Below is our list of additional services: