FREE Pool Deck Resurfacing Quote for Jupiter Residents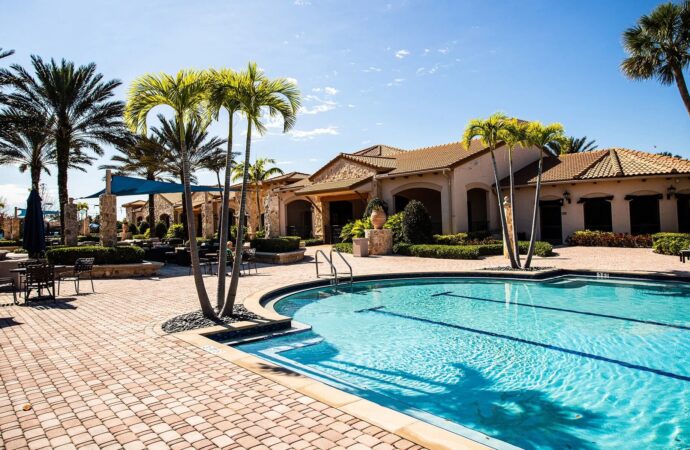 Reaching out to pool contractors should be simple… or that's what you would believe. With all the options available and how many people fake to be actual professionals, you have a hard time figuring out who would be the best for your needs. For this reason, we encourage you to contact SoFlo Pool Decks and Pavers of Jupiter. Our team has been here for over 20 years so that you can access reliable and qualified contractors who worry about you and your project. Pool deck resurfacing, pool remodeling, and more are waiting for you. Unlike other companies, we prioritize your needs and listen to your requests. This way, you get the exact result you want or one even better.
By all means, we will keep in mind needs such as your budget and preferences for colors, designs, and more. You won't have to worry about requesting a specific material over and over again unless we let you know why it isn't possible to obtain it or use it for your pool area. Whenever you have any additions or need to change anything from the project, we will listen to it as well and focus on making it happen.
Because of how many companies charge high rates, we know you are scared of relying on professionals. However, we promise to negotiate the final estimate so that you get a fair and affordable price for your project. You won't have to worry about spending a fortune and you can always ask our team for more options on your project.
Our team at SoFlo Pool Decks and Pavers of Jupiter can help you with any pool deck project, whether it's a complete resurfacing job or a minor repair to an existing deck or pool. Our company has over 19 years of experience, and we are constantly improving our services and the outcomes we can deliver to you. We want you to be happy with the safety and aesthetics of the pool deck or the pool itself. That's why we try our best to:
Ensure durability and longevity by using top-quality materials.

Make sure all our experts have the necessary qualifications and experience to deal with all elements and services we offer in the company.

Get the result you need and want by focusing on your preferences and needs so that we can satisfy you in every way possible.

Allow you to save money by using the most recent materials yet affordable ones that won't compromise quality and durability in the process.
Remember that we are here to assist you in bringing your vision to reality. You must take the first step for it, which is either calling or emailing us. Some people can choose to visit our offices in the city and have a conversation with the team. We will gladly take the lead while you make all the decisions and make any changes that you want.
Many homeowners and business owners who contact us don't understand their needs well enough to be able to decide how we should approach them. We are here to help even on this.
Our role and help don't start when we're working on your pool deck. It begins when we are able to provide information, details, or facts that will help you make informed decisions.
We want you not to struggle to make the right decision. Instead, we will guide and support you through the whole process. We are here to help you save time and money.
Your Satisfaction Is What Matters
We will create a plan and design for your pool deck or entire pool area that will be focused on what you need while our team considers all the preferences you have—colors, textures, and more. What we deliver or plan for you could be for actual resurfacing, remodeling, or repairs. Or even for a new surface that needs to be replaced or enhanced by some services.
This will allow you to get a clear idea of the final outcome and give us your approval before we can touch your deck. Basically, you get a design and planning that will allow you to know how we will bring your vision to life.
Remember that we will provide a quote and service that is ten times more accurate if we have access to your deck and surface. This will allow us to fully understand your project, create a plan that suits your needs, and then offer you a quote.
We want you to be happy and satisfied. You don't need to spend a lot on every project, but if you are unable to allow us to assess the space right away, provide as much information as possible for us to give an accurate or close estimate.
Below is our list of additional services: