Pool Deck Resurfacing for Hobe Sound Residents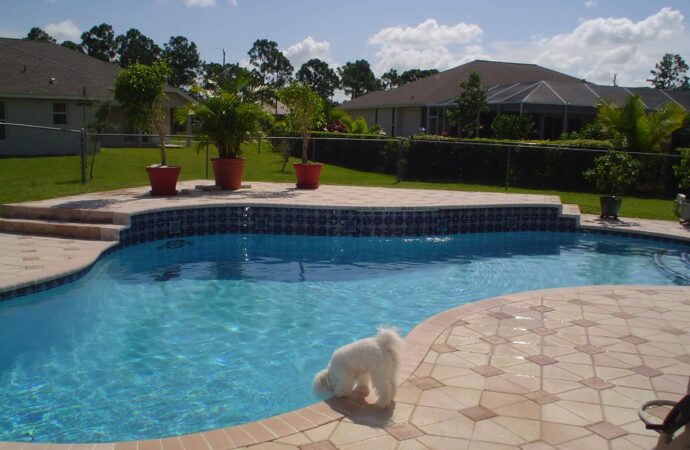 Hobe Sound is one of those locations where you can find everything. Great restaurants, beaches to enjoy, and stunning properties with pools you can envy. The issue with the latter is that they take a lot of work to maintain, and you probably know best as one of the owners has to perform multiple services. SoFlo Pool Decks and Pavers of Jupiter is a company that can help you with those needs. Therefore, we want you to know you are not alone; instead, you can rely on our contractors to get all repairs, renovations, and any other project is done.
We are able to guarantee clean and durable results thanks to our qualified contractors. You shouldn't expect people with less than five years of experience in the industry. Additionally, they are well-equipped and all materials used are of the best quality so that you can get the best attention and services. In fact, we are proud of the results we obtain thanks to our combination and how we always focus on doing things right.
Above all, we want your satisfaction and happiness. To do so, we find a balance between what you want and need and can fit within your budget whenever you require a pool service. Even when the project might be large-scale, we are here to focus on making it possible, especially when you have issues with your current space. Don't worry about details and let our team handle the process.
When you consider all the projects you have for your pool, you know you have to find reliable experts who can deal with the entire process and ensure the results will be stunning, durable, long-lasting, and won't make you go over the entire process again. Slippery surfaces and cracked areas will be dangerous not only to you but also to the entire structure and outdoor features, so you want to work on repairing them and working around your needs to make sure they are no longer issues with them. If you live in Hobe Sound, SoFlo Pool Decks and Pavers of Jupiter are able to provide all services for your pool deck resurfacing and repairs, remodeling, and much more.
We make sure that we only use high-quality materials that are affordable for our clients. This is to ensure the highest quality results. It's also because our contractors are skilled and knowledgeable about how to use the materials to achieve the best results and use their experience for the best.
We only work with qualified contractors who have seven to eight years of experience minimum in pool decks and any related work: repairs, remodeling, installations, coping, and more.
We are different from other professionals in the area. We offer a variety of options to help you find the right solution for your problem and ensure you don't have to struggle to try to get the best results and the most out of your investment.
We are certain that Hone Sound residents are most interested in services related to remodeling and repairs. Most of them discovered that the needs they had were not what they expected.
Sometimes, it's not about completing an entire remodeling or repair project but rather just finding the specific service needed that will solve the issue. You can save time and money by resurfacing or coating your pool deck using the best materials available, for example. This will give you a unique and satisfying result that won't involve having to remodel the entire space or work with more elements than you need and maybe can afford.
Our company is able to offer the services and not just because we want to take on more clients. Our team is experienced and can deliver each solution on our list without any problems. We guarantee the best results to ensure you have a beautiful, long-lasting pool deck and a great area where everyone can spend time and enjoy the experience.
Resurfacing Is Just Where Our Help Begins
Our company is among the few that offer pool lighting in the city and the surrounding areas. We also provide regular surfacing, coating, and other services. It is all about having a look at our list, or feel free to ask our team if we are able to handle different projects and requests based on what you're looking for.
We can work with you to create an aesthetic and unique pool, so take this for granted.
We will do everything possible to make sure your landscape is perfect with the right lighting for your pool and all the services needed.
Below is our list of additional services: