Pool Deck Resurfacing for Tequesta Residents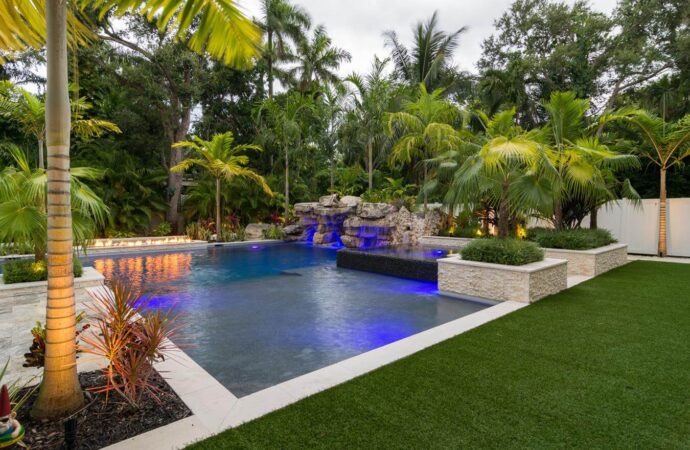 Have you ever thought about owning a pool? If so, are you thinking about all the maintenance and services it will require? You don't have to worry about them if you have qualified experts to help you. At SoFlo Pool Decks and Pavers of Jupiter, we have qualified and experienced contractors to help you manage and maintain your pool in Tequesta. This includes dealing with any repairs and pool deck resurfacing or just providing assistance in projects you want to take on. Therefore, feel free to own your pool without worrying about details such as pool acid wash or if you ever want to make some changes.
We understand that what worries most people is how they can deal with the expenses. However, a pool turns out to be expensive when the post services are done incorrectly or poorly. In essence, you won't have to worry about it when you have our team working on the projects. This way, you will have a great pool experience over the years. Additionally, you can tackle multiple services and projects simultaneously with our help, as we will plan them properly for you.
In other words, you can have our team helping with your usual maintenance, but pool remodeling, pool lighting, and more can be included in your projects. Allow us to be there and you won't have to worry about anything so every part of your pool is neat and in good condition. All you have to do is get in touch with us first.
Due to the numerous companies and experts that offer their services, it has been difficult for homeowners and commercial property owners to find qualified pool deck resurfacing specialists in Tequesta. Unfortunately, not all can deliver the best results, and you can end up with a poor installation or service due to their inexperience and inability to actually deliver what they offer. They are simply trying to make the most of those who trust them and won't focus on improving themselves. Our team at SoFlo Pool Decks and Pavers of Jupiter can help you to make sure you have reliable professionals with at least seven years of industry experience. 
We can provide different services that go beyond resurfacing. These include installing new features or simply maintaining the pool deck and working with pool lighting, which many companies in this industry often ignore and forget. However, we personally understand the need to deal with them and ensure your pool looks stunning day and night.
Our company has been in operation for more than 19 years. We know homeowners and business owners are looking for services to maintain and repair their pool decks. This will allow them to rest assured that it will always be beautiful and ready for use whenever they need it. With our help, they can even stop worrying about durability and longevity since we care about how long the results will last, and for it, we use top-quality materials at affordable prices.
Durability and longevity are two of the biggest concerns for most people and our experts. Some pool decks can last only a few years after they have been built or resurfaced. It is often because the materials used were poor quality or because the professionals who did the installation or resurfacing weren't really skilled enough to do it correctly.
Many factors can cause poor results, but we are reassured that you will have great access to services in your area when relying on our team. This means you don't need to worry about how beautiful it is or how long it will last, regardless of how much traffic it receives or has, as we deliver good results while focusing on both aspects of the pool area.
Durability and longevity are important to us. We want every pool deck we deliver to be the best possible and last for over ten years.
We Can Help You with Your Needs
Our team can assist you with everything from regular pool deck resurfacing to spray deck and diamond brite installation.
Our team can help with new or existing decks that are in need of repairs and maintenance. We also have the ability to provide services for specific surface installation for your pool. We can offer services that focus on your specific needs and the design of your pool deck.
Additional services are also available that contractors and professionals in this field overlook. You can negotiate with our team to get pool lighting, pool coping, and pool remodeling. We also offer the installation of various materials and elements that will create a durable, non-slippery surface.
Below is our list of additional services: