Pool Deck Resealing Services for Jupiter Residents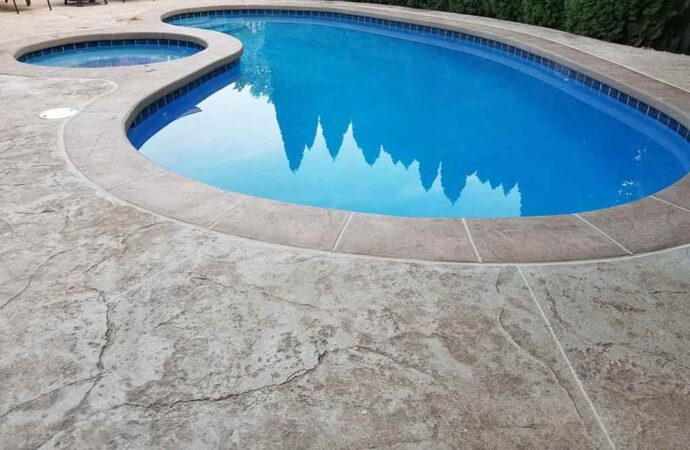 At SoFlo Pool Decks and Pavers of Jupiter, we believe that a pool deck is one of the most important parts of a backyard, especially if you spend lots of time on it. This is why it is normal wanting to have it in good condition and work around its appearance. In case you are wondering why you would worry about the deck deterioration, the elements can take a toll on your pool deck, causing it to crack, fade, and lose appeal. Hence, you want to focus on post services such as pool deck resealing to restore your deck's beauty and functionality and add strength to the space.
Our company has been working in resealing pools for over 19 years. Therefore, you can rely on us to provide a good service and achieve the perfect result so that you don't have to worry about safety and aesthetics in your space. However, for this, you need to take the first step whenever you want to work with our team.
Unlike other contractors, we will prioritize your needs as much as your budget so that you can complete the project without worrying about your finances. You can tell by this that we are different from other companies that only care about the money and closing the deal.
While you may think pool deck resealing isn't a service you need, we can change your perspective when you know what it is all about.
What Is Pool Deck Resealing? Do You Truly Need It?
---
Put simply, pool deck resealing is a process of applying a protective coating to your deck's surface. It will reduce all damage caused by water, sun, and other elements. Foot traffic and how much you use the space or area also influence the condition and how it deteriorates over time. Therefore, this is a service you want to prioritize to avoid frequent repairs or extra expenses.
How does it specifically help? The coating helps to prevent water from penetrating the concrete, which can cause cracks and other damage. It also provides a slip-resistant surface that is safe for walking and reduces the risk of accidents. Moreover, you can delay resurfacing and get to enjoy the space more than at other times.
But unless you want this to be poorly done, qualified contractors who know how to use the materials will be needed. In the event of requiring this service or trying to reach out to qualified ones, we are here to provide full support.
How Do We Reseal Your Pool Deck?
---
At SoFlo Pool Decks and Pavers of Jupiter, we follow a step-by-step process to ensure that your pool deck is resealed properly:
Prepping the surface: prep-work is crucial so that the material and product stick properly to the surface. The way we do it is by cleaning the surface of your pool deck to remove any dirt, debris, or previous sealant. We also inspect the surface for any cracks, chips, or other damage that needs to be repaired. In case the damage is not significant or only small, the sealer can be enough for the repairs.
Applying the sealant: is the surface did and clean? Then we can start to apply the sealant. We use a high-quality product designed to protect your pool deck from the elements and extreme conditions so that extra protection is already in place in case of any storms or heat waves. We apply the sealant in multiple thin layers to ensure even coverage and guarantee the perfect result.
Curing time: you need to let the sealant dry. Therefore, after we apply the sealant, we allow it to cure for a specified time. During this time, keeping the surface dry and avoiding foot traffic is important.
Final inspection: Once cured, we will inspect the deck to identify any remaining cracks and ensure the sealant dries properly. In the event of an uneven area or problems with the main result, we will get our contractors to fix it.
How Much Does Pool Deck Resealing Cost?
---
Prices are never accurate or fixed for your projects. In the case of pool deck resealing, multiple factors apply so that you can get an estimate or average for the project.
The size of your pool deck, the condition of the surface, and the type of sealant you choose can all affect the price. On average, pool deck resealing costs between $3 and $5 per square foot. However, if repairs need to be made, the cost can be higher due to the extra service needed. Therefore, we encourage you to contact us and schedule a free inspection so that our team can give you an estimate.
You are free to choose to work with us or not after receiving it, and as long as you are open for the visit, you can schedule it at your best convenience. In case you are looking for just an average, use our contact form, and we will provide the estimate with the information you give us.
In our company, we are committed to providing the best support and attention to our customers. We understand that your pool deck is an important part of your backyard, and we take pride in helping you restore its beauty and functionality. While other companies will be invested in what they want and need, we will put you first and, above all, the steps and parts of this project.
We have the experience, quality materials, and equipment to guarantee clean and stunning results. Therefore, don't hesitate to contact us and have our contractors work on your pool deck resealing project.
In conclusion, if you are looking for this service, look no further than us. We offer a step-by-step process that ensures your pool deck is resealed properly, with competitive pricing, high-quality materials, and excellent customer service.
Below is our list of additional services: