Diamond Brite Installation Services for Jupiter Residents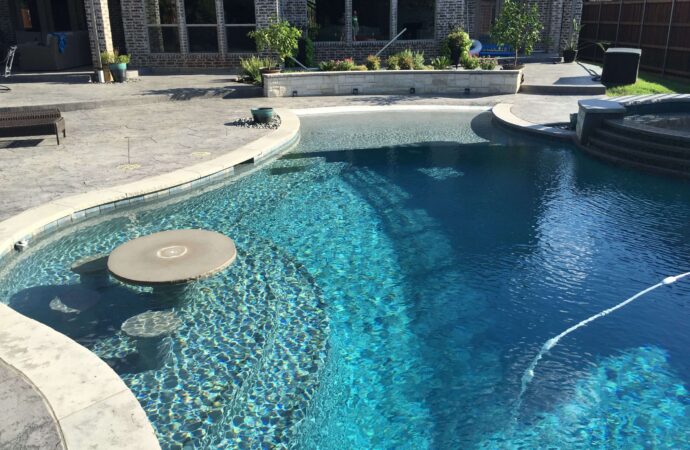 Caring for your pool area will be everything once you get your deck, structure, and all features in place. Your resurfacing, coping, and how your inner walls perform, coupled with the connections and pumps, will have a lot of work to do. We offer multiple solutions at SoFlo Pool Decks and Pavers of Jupiter. Diamond brite installation is a top recommendation for your internal walls and structure. Unlike refinishing or resurfacing, this coat will add more resistance and durability to your pool. as a result, you can enjoy it for more time and relax with the feature without worrying about damage or cracks.
It is crucial to install it properly, as most people experiment with issues with the material. Therefore, make sure to contact reliable experts like the ones on our team so that you don't have to worry about any details. The way we make this possible is by focusing on a process. First, we will inspect your pool and see its condition. Second, we will recommend the installation based on your needs and your project, not because of how we consider it the best. Finally, we handle all the planning phases and installation so you get the best out of your investment.
Do you want to get started with this project? You need to take the first step and contact our team. We will be there in no time and focus on getting the neatest and most stunning finish with this diamond brite option so that durability and longevity are a plus in your pool.
You need to be concerned about the durability and long-term longevity of a pool and everything involved in it, including the interior and exterior parts and features. You need to consider the ongoing issues that pool owners have to deal with, such as chemicals and weather conditions. Also, you will want a beautiful pool, which is why aesthetics enter the equation and what you probably want for your space. After considering all of these factors, you will be able to decide whether you will spend more time and resources on the design. One thing we do make sure to remember to all pool owners directly is how crucial is to work with diamond brite installation for all the interior finishes of the pool. This will allow you to avoid having to repair or replace any areas that have become damaged and ensure durability and longevity are two characteristics that identify your pool alone.
Contrary to popular belief, diamond brite does not serve as a surface or material for pool deck resurfacing. This is because concrete and similar materials are often used in conjunction with the deck. Still, the purpose of this finish is to bring more resistance and durability to the internal walls of the pool and structure.
Diamond brite is a polish mix made from natural quartz aggregate. This color quartz is very durable and won't fade, unlike other blends. It also contains a modified cement, which is partially made up of polymer. This adds durability and longevity to the entire finish and will pay off the money you invest in it, as durability must be guaranteed for over a decade even when the pool is considered high traffic—the number of people using it is high.
This blend is used in interior finishes to ensure that your pool doesn't need to be constantly repaired and has a great heat control surface. It is also non-slippery so you won't get into any accidents, and it can offer a better grasp when in the water.
Diamond brite is also suitable for pool decks. However, it is most commonly used inside swimming pools because of its resistance to chemicals as well as chlorine. It can withstand everything, so people will enjoy a wonderful experience when they spend time in the main focal point of your outdoor living space.
More Than a Recommendation, It Is a Need
We will be going over the details of this element in more detail. This will allow you to understand why it is important and why you should focus on applying it right after you get your pool or during the entire process of construction or remodeling.
The result is comfortable and smooth when using it, particularly around the edges, where most people are focused on using the diamond brite option. The heat won't affect functionality. You should care deeply about this if you are aware of the weather and heat in Florida.
You get a pool finish that will not fade, and that doesn't require regular maintenance. This allows you to save money on your pool or invest it in other areas or elements that affect the pool's performance.
It is very easy to install and you don't need to wait too long to enjoy your pool or deck. It takes only a few days to finish the entire installation, and you will get a surface that can be used all day long without any restrains and issues.
Does It Cost a Lot to Have a Diamond Brite?
If you rely on professionals who don't really worry about your budget, the installation process will be quite expensive when it shouldn't be. This is why it has become more popular over time among companies to offer it, but we know best, and we want to tell you that it is possible to have the finest surfaces and textures for a very reasonable price.
It is a great investment because it has quality, durability, and great aesthetics, but this doesn't mean you need to spend a fortune to obtain it.
We want you to stick to your budget so that you don't have to spend more than you can afford. SoFlo Pool Decks and Pavers of Jupiter can provide a quote and an assessment of your space and pool to help you determine the cost.
Project costs will increase due to the required work and the square footage that must be considered. You will be pleased to know that this is a more cost-effective option than a one-time purchase. The pool and deck will last for 10 to 15 years if you maintain them properly. It is also very rare to need repairs and they are easy to make if needed.
On average, this finish of diamond brite can be between $4.000 to $12.000. Everything will depend on variables like:
The dimensions of your space or pool.

The type of diamond brite that was used, the brand or product within the market.

Prices will vary depending on the style and color you choose.

You may specify a time frame or deadline that you need us to adhere to.
We will gladly provide an estimate based on your preferences and needs if you contact us. To give you an accurate quote, we will need to know a bit about your space, such as its size, color, texture, and style.
If possible, you should gladly allow us access to your space to assess it. If we are not asked for any modifications or additions, the final price will remain the same after we assess your area and come up with the final quote, so you know how much will be needed.
We will cover everything from draining the pool, and removing tiles, to installing the diamond brite, including the bonding coat and adding new pieces or tiles. Anything with the project and the entire process of working with this finish will be in the hands of our qualified and experienced professionals.
Contact us for more information on diamond brite installations and services in Jupiter, Florida.
Below is our list of additional services: