Learn More About SoFlo Pool Decks and Pavers of Jupiter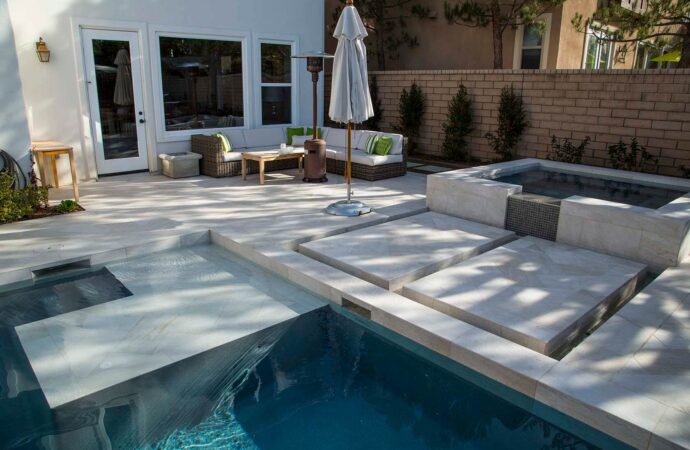 Our company, SoFlo Pool Decks and Pavers of Jupiter, is one of the top companies in the city that offers all solutions for pool owners. Whenever you want to repair your deck or incur in pool deck resurfacing, we can provide full support and assistance. This way, you don't have to worry about finding multiple experts or worrying if they are reliable for the project. We have every specialist and professional so that you have all the professionalism and reliability needed. as a result. You get perfect projects that will be what you expect and more.
We are a company that has been in business for over two decades. We have worried about adding more services without losing quality during this time. Additionally, we continuously provide our team and contractors with training and new equipment. This is how we are able to guarantee the best results so that you don't have to worry about repeating any services or worrying about your money going to waste. Hence, you can rely on us for any project you have in mind. From pool lighting to pool deck repair, we are here for you.
Having our team working in your pool area is quite simple. You can call or email us, or feel free to use our contact form anytime. Our staff will get back to you and answer all your questions in no time. This includes going over the specific service you are requesting or helping with doubts so that you make the best decision based on your needs. Therefore, rest assured you don't need to ask for a solution right away. We offer full support and all the answers and recommendations you need.
It can be hard and take a lot of time and effort to work in the pool deck resurfacing field. You need to have experience and also learn new skills in order to deliver good results and ensure durability and longevity in this process. You won't be able to offer the best services to homeowners and clients in Jupiter if you don't focus on this, and if you are the one interested in the service, you will need to make sure that those whom you hire to meet all the standards. At SoFlo Pool Decks and Pavers of Jupiter, our team is focused on providing top-quality services. Our licensed and experienced contractors are skilled and certified and can handle all aspects of resurfacing, including pool coping and working with spray and eurotile, which are gaining popularity in the city and the entire state.
The pool industry is well-known for its pool deck resurfacing, which is used to fix decks and give them a new look. However, the professionals should also be able to offer other services around the pool and the area that surrounds it as well as the interior walls of the feature itself and everything related to it.
That being said, we're aware that many pool owners consider handling resurfacing or any project, repair, and construction themselves. However, if you are wondering why pool resurfacing contractors should be hired instead of you doing the job yourself, it is because you need to know how each material works and how they can be used to create different styles and results. You also need to understand the purpose and function of your pool deck and what will bring better results than others in comparison. All this is what a real and reliable contractor knows and brings to the table when you hire them.
Our team is skilled in working with different materials such as concrete, pavers, acrylic, and other options that offer different levels of durability, longevity, and a wide range of designs and styles. You won't have to worry about costs and all the details that come with this service when having us as your professionals.
We know how important it can be to have a pool deck that provides the best experience and doesn't cause accidents due to cracks or damage to the surface. Therefore, we want to ensure that you have one that will last ten years or more. Some of the pool decks and spaces we have worked with are already over their ten years mark and keep going strong.
Our pool deck contractors have more experience than regular contractors in Jupiter. They have at least eight years of experience with resurfacing, including all aspects of coping, installation, repairs, remodeling, and the use of a variety of materials and tools to achieve better results.
We Are the Experts You Need in Your Pool Area
We have been providing services for more than 19 years. Over that time, we have only hired specialists who are capable of delivering the results promised or better. We don't want experts who think they can do more than necessary or are entitled to make changes. We want you to be the priority, and that is why we need qualified people to help with your resurfacing needs.
We make sure that each contractor has the right materials, equipment, tools, and training so they can complete the job quickly and without any compromises in quality or durability.
With the knowledge we have obtained over the years and the way we continue to improve our skills, we are here to fulfill all your wishes and needs, and rest assured, we will go beyond the simple result that can satisfy you.
Below is our list of additional services: