Pool Lighting Installation Services for Jupiter Residents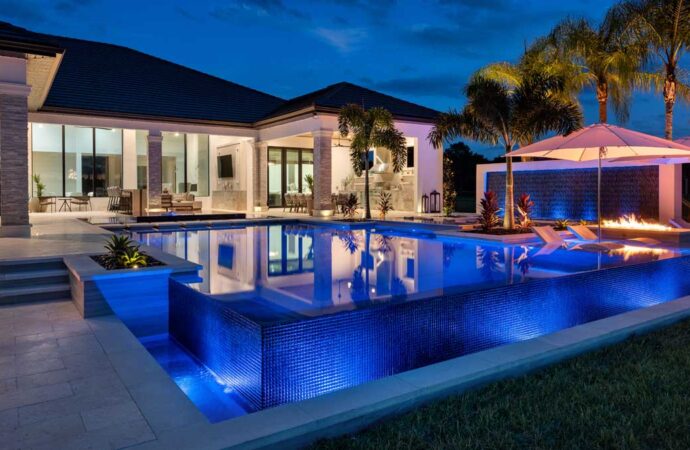 Repairing and maintaining your pool will always be at the top of your priority list. However, suppose you want to work with aesthetics and ensure you have a space you can enjoy by just looking at it. In that case, pool lighting is a great option. as much as adding new water features or working on other structures is what most pool owners prefer, those can be quite expensive. Lighting is more affordable and quite a need if you consider your landscape and functionality. At SoFlo Pool Decks and Pavers of Jupiter, our contractors help you design and install the lights so that your space is ready to be used during the day and night.
While other companies will focus on how to add many lights and features, we will consider your preferences and needs first. Hence, let us know what you would like or if you have any inspiration and examples. Then, we focus on getting the perfect design that is within your budget, what you like, and covers all the lighting needs around your pool and inside it. Above all, our contractors will prioritize your current landscape and follow a design that blends well or complements the space.
In case you have a very specific design and lighting pattern in mind, let our team know right away. We will require some pictures from your pool and make sure to allow us to have a look at its condition. Moreover, we must know if you have some systems and lighting installed and if it needs to be removed.
If you are considering adding a pool to your outdoor space, or maybe you already have one that is part of the beauty of your property, it is important that you consider how fixtures and other features can enhance the look of the pool and bring a different ambiance and positive change to the entire area. You probably already have a swimming pool, which is what we are aiming for here, and what we want to point out among the options for enhancing its beauty is considering pool lighting as it isn't only for aesthetical purposes but also for functional ones. It is important to ensure that the pool has enough lighting to allow you to see the water and create a relaxing atmosphere. You can do a lot with lighting this feature, but you need reliable professionals who will be able to provide quality products and services. 
This service is a priority for our team at SoFlo Pool Decks and Pavers of Jupiter, as we understand how crucial it is to complete the entire landscape and add more beauty and functionality to the pool and entire deck. Without lights, you don't get to see your surroundings, and we want to make sure that it isn't a simple eyesore or an extra feature at night when the pool could have all the spotlight with the right lighting.
Electrical fixtures are important because it's not just about the aesthetics of the pool. It also involves having the right lighting installed to allow you to see into the water and achieve similar goals. The entire lighting project includes the design of the surrounding area around the pool to ensure that you have a sufficient vision so that you can see inside the pool and provide lighting for your clients in case this is in a commercial property.
We will install lighting at the edges and make paths, if necessary, with the lights. This will create a new atmosphere for all who use it while complementing all aspects of your outdoor living spaces.
There Is Science in Pool Lighting
Pool lighting isn't as simple as it seems. This is why professionals are recommended. They will know the best options, use the best materials and install the fixtures in the correct places to avoid accidents. The final result is a beautiful area that is easy to access and enhances the appearance while also making you feel relaxed about how safe it is with all the connections and water involved.
Our team has worked hard to ensure that you are satisfied with the quality of our products. There will be lights that last a month in many cases, but we want to aim for those that can offer much more in terms of durability and longevity, depending on how many are needed for each area of your pool. You won't need to worry about electricity or how to handle it. We're happy to help you and bring all the safety measures to the place.
We will evaluate your pool and determine what lighting is needed to make it look stunning at night. We will work with you to create a design that is compatible with your outdoor space.
However, we can also provide specific lighting and colors for certain areas that will complement what you have in mind for it.
Perhaps you would like the pool to be lit, as this is the main purpose of the service or project. You may also want to highlight and light up specific features around the pool so that you can create a design or vision for your space.
This type of request is welcome. We want you to be happy with the final result. It is important to assess your space before we can create a design for you whatsoever so our team can have a good idea of what you want and need and provide a quote based on the details.
We will also need to understand your needs and how we can make it work. We can see the design and structure of your pool and work with you to create pool lighting that enhances it. To ensure safety and durability, you will have the support of qualified professionals who are experts in this field.
You Can Install or Replace Them with Our Help
You can access our service to have your pool lighting changed and not only installed for the first time. Maybe you want to replace some and bring a new type of atmosphere to the place by having our experts design a new outdoor space and work their magic.
What we want to make sure you understand is that all these reasons for requesting the service are valid:
It's not your favorite thing anymore.

There are some lights or repairs that you need to make because they have stopped working.

You are looking for a new style.

And more reasons can be included. As long as you want it, we will be there.
We're here to help you in any way we can. It doesn't matter if this is your first-time installing pool lighting. If you have any questions or need to have them replaced, we can help.
Pool owners may need to replace their electrical systems or upgrade features to make them more efficient. You can choose to upgrade your existing fixtures and equipment, which will save you money on electricity, make the pool more attractive, and allow you to have a unique design.
We understand that there are many reasons why you might need to replace something. This will give you more options and allow us to better understand your space. We will also ensure that you are happy with the final product.
There are many things to consider. We will do our best to help you decide if it is a repair or replacement job or if it is the first time you need these electrical fixtures or lighting.
Get in touch with our team to receive a quote based on the size of your pool as well as all fixtures required to achieve the desired results.
Below is our list of additional services: