Pool Acid Wash Services for Jupiter Residents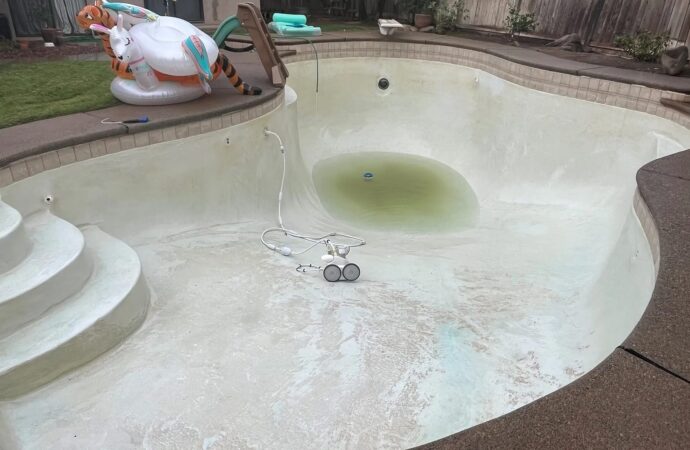 Pool acid wash is a service that you need with time. Although you can maintain your pool in good condition with all the cleaning and frequent maintenance with the post services, grime, and sediment are bound to build up. Therefore, you want to focus on how to prevent this from happening, and the best option is to focus on proper washing. At SoFlo Pool Decks and Pavers of Jupiter, we can introduce you to the whole acid-washing concept and perform it for you in case this is what you require for your pool.
This service is not always possible as your pool finish or surfacing material is often damaged. As a result, you would have to refinish or resurface if the one in your pool isn't the most optimal for acid and the whole process. This can be determined with an inspection and by allowing our contractors to support your process.
Is acid washing needed only when your grime and algae are everywhere? Not really. It is possible to perform the service before things get worse. In fact, we recommend prioritizing it if you know or notice that your pool tends to build them up. This way, you can prevent future repairs from taking place and have the chance to enjoy your pool anytime.
As long as you contact us first, our team can provide full support and guidance in this process whenever you are experiencing some issues. Therefore, don't be afraid of just contacting us to ask or clear some doubts, as we are here for more than only providing the service.
We are professionals looking after your best interests. Hence, you can rely on us for anything outside of hiring us and maybe just want to learn more before making a decision.
What Does Acid Washing Do for Your Pool?
---
It will remove grime, sediment, and algae from your walls. Unlike your usual cleaning, this is more focused on how your inner structure gets dirty with time, even when chlorine and proper maintenance are used and provided. This is normal as a water feature regularly builds these elements due to use and exposure. What is important here is focusing on not letting it get worse.
The way pool acid wash helps is based on the mix used on the walls. We will have hydrochloric acid mixed with water and specific products so that the grime can be scrubbed and brushed. This is a process that takes time as we need to let the mix sit and stick to the sediment.
Our contractors will ensure that the mix used matches your pool's condition. Unless your pool is in critical need of washing, the chemicals used don't need to be that concentrated, or the mix doesn't need to have a bunch of them. Therefore, it is important to know the balance and work around it.
By the time we are done, all the grime and build-up will be removed and you will have a pool that looks stunning, is in good condition, and is clean to be used.
How Does Our Team Perform Acid Washing in Your Pool?
---
The process is the same regardless of how much grime and build-up it has.
First, we need to inspect it and see its condition so that we can prepare the mix and know how to approach the process.
Second, we will plan and provide you an estimate based on the condition, the time it will take us, and the labor from our team. This quote will also be based on your budget and how you want to approach this need.
Finally, we will start the process if you decide to work with us.
We know this doesn't truly explain how pool acid wash is performed. Hence, allow us to illustrate the process a bit more:
We have to drain the pool and ensure it dries a bit.

Repairs and any additional services like dealing with damage need to be handled. This way, your pool's condition will be restored and we won't be damaging it ore with chemicals.

Our team will spray the water and chemicals combined onto the pool's surface.

The mix must sit briefly before we can brush and scrub the walls.

Our contractors and cleaners will brush and scrub it, so the stains and grime are removed properly.

We will wash the pool's surface so that the mix and chemicals are removed properly.

An additional inspection will be provided so that we can see the damage to the walls and if any extra step is needed.

As long as everything is in place and done well, we will fill the pool for you to use again.
Is Pool Acid Wash An Affordable Service?
---
The good part about needing this service is that you don't have to worry about the price or frequency. In case you need it often, it is more about how you maintain your pool or whether the people you hire are not providing a good service. Therefore, you ought to keep an eye on those factors.
With this in mind, pool acid wash costs about $300 to $500. The price will vary depending on the grime and build-up and your pool's size, coupled with any additional services you may need, like repairing cracks or adding some refinishing.
Our team at SoFlo Pool Decks and Pavers of Jupiter can provide an estimate so that you know how much it will be before we proceed with the washing. We can adapt it to your budget, but the best advice we can give you is to stop waiting too long.
In other words, the washing will be quite cheap if it is performed when the grime, sediment, and algae are starting to be noticeable instead of waiting for months.
Contact us today for your free estimate so you can decide whether to tackle this project right away or not.
Below is our list of additional services: