Pool Plastering Services for Jupiter Residents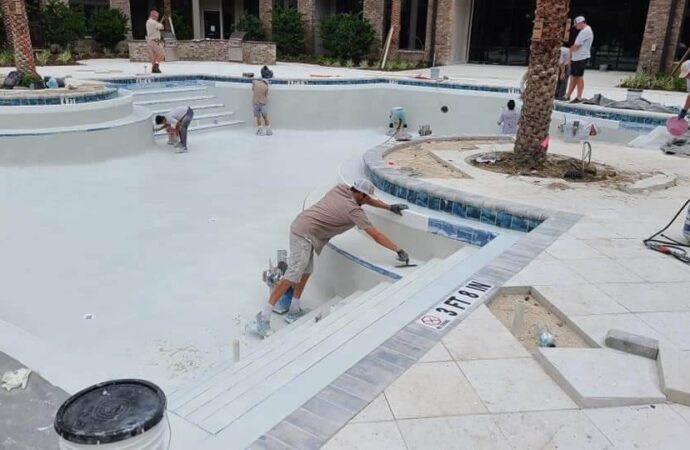 Building a pool takes time and several elements so that it is in good condition and can perform well over the years. Most owners or people that request building one don't understand this part, and as a result, they don't know that some services besides cleaning and washing are needed. Pool plastering is one of those steps you cannot ignore. Therefore, SoFlo Pool Decks and Pavers of Jupiter invites you to contact us and have our team provide an overview of how you can complete this service.
You will want to note that it isn't only needed when your pool is built. In fact, you will require it every 10 to 12 years so that your pool remains in a good state. The tricky part is that poorly done plastering won't last this long, and factors such as elements and how damaged your pool get over the years will influence durability ad longevity. Therefore, you want to keep an eye on and inspect your pool plaster occasionally so that you can take action as soon as needed.
Overall, our team can help you with every step of this process, from inspecting the pool to determining if the plastering is needed or not. Additionally, we will design and plan the entire process in case you do require new plaster for your feature so that you don't have to think about poor services or results again.
Allow us to be there and work our way through the water feature. As a result, you will be able to enjoy your space without worries and instead focus on relaxing and having a more beautiful pool.
What Is Pool Plastering In Specific?
---
You are probably confused about what plaster is and how this affects your pool in general. Put simply. It is the coat for your concrete pool. Put in order. It is what seals all materials and elements together so that the structure is completed.
The plaster applied will always work as a finish—even though it isn't exactly—and ensure a watertight seal is in place. Consequently, you have a coat that will prevent leaks and filtrations and guarantee that the entire structure is stable. In addition to this plaster, you do need to apply the finish to complete the process, but they complement each other.
Unlike what most people believe, the plaster you choose does influence the pool's designs and aesthetics. Colors, tones, and even shades of it will change based on the material used for the process. In case you are not sure about which one would be the best, our contractors will start here and guide you through the pool plastering project so that your pool is neat and you can worry less about the process.
Furthermore, you will be able to have a durable and stable pool with it. In other words, adding the plaster and always focusing on keeping it intact or in good condition will save time and money in future services.
How Does Our Team Assist You in Plastering a Pool?
---
Part of guaranteeing quality and durability is knowing how to apply the plaster. Unless you are an expert or know what materials and products would be the best and then complement this with proper installation, you shouldn't approach the task on your own.
What our company, SoFlo Pool Decks and Pavers of Jupiter, does for you ensures you have a need for plastering and can keep it for the next decade or more with little maintenance. In addition to dealing with the application, we will give you guidelines on how to take care of it. Of course, we will also be here for any issues or post services needed.
First, we will inspect your pool and see your plaster condition to make all this possible. Is it in a good state? Or do you actually need replastering? If so, what type of plaster would be the best? All these questions will be answered during the inspection so that we can give you a proper estimate and plan.
Second, we will cover your preferences and budget. We understand durability and longevity are crucial, but making sure the project is within your budget and what you want is equally important. Hence, expect our team to work around this and give you the desired result.
Finally, we will start the project as long as you decide to work with us. Otherwise, you can take your time and come to us when you are ready.
In case you decide to have our contractors in place, we will work through the entire pool plastering process:
Choose the best plaster.

Drain the pool.

Relieve all hydrostatic pressure.

Pre-work so that the pool is ready.

Deal with any repairs.

Apply the plaster.

Finish the project.
Reach Out & Our Team Will Have Your Pool Plastered
---
All you have to do to have our team work on your project is call or email us. We will answer your questions and focus on clearing your doubts so that you are aware of every step and fee in the pool plastering process.
Unlike other companies, we will prioritize your preferences and needs so that your plastering process isn't a hassle or annoyance. In fact, we want you to even find it enjoyable to a certain extent.
Because of its importance and how much plastering influences your pool condition, we want you to be clear about it and aware of all needs you will have around it. Therefore, allow our contractors to provide support beyond the service alone. Recommendations, advice, and details about how to deal with your plaster will be provided before, during, and after the service.
Get in touch with us today using our contact form, and as long as you are open to our contractors, we won't fail you. to sum up, we are here for more than just your pool plastering request.
Below is our list of additional services: