Pool Deck Stamped Concrete Services for Jupiter Residents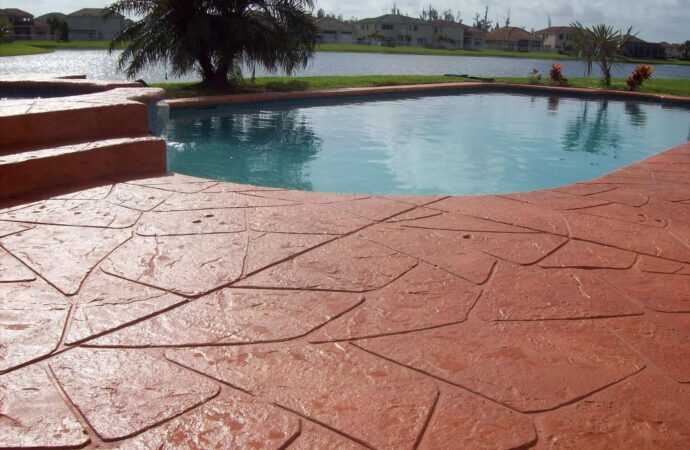 As much as people love brick pavers for their pool decks, it can be an expensive material for the project. As a result, it isn't always viable, and relying on other options is a common occurrence to ensure quality, aesthetics, and affordability are met all at once. At SoFlo Pool Decks and Pavers of Jupiter, we recommend going for pool deck stamped concrete if you try to balance every relevant factor. Therefore, take the step of contacting us and having our team work on your projects. We will be more than happy to provide guidance and even a free estimate for the service.
But why choose us as the company for your pool deck? We take pride in transforming any pool area into a beautiful and functional one. We have been working with stamped concrete for over ten years, and during this time, we have learned every detail about it so that the deck you get is perfect.
If you are unfamiliar with the material, you must know it offers a wide range of benefits to homeowners looking to enhance their pool's appearance and functionality. First, stamped concrete is a highly durable and customizable material that can be designed to mimic the look and texture of natural stone, brick, and other materials. Hence, it is an ideal option for pool decking, as it can complement or be the main character in your outdoor and landscaping area.
Additionally, it allows you to obtain a slip-resistant pool deck. Traditional pool deck materials such as tile or plain concrete can become slippery when wet, increasing the risk of accidents and injuries.
But Is Pool Deck Stamped Concrete Something You Should Consider?
---
Besides the previous benefits, you will love the material when you learn it can be textured and sealed. As a result, it is easy and possible to obtain a safe and comfortable deck for swimmers and all users.
In addition to its safety benefits, stamped concrete offers a high customization level. In our company, we care about you and the preferences you have in colors and textures since they are important, but focusing on durability and longevity is equally important. Hence, we work closely with you to create custom designs that reflect your style yet are durable and long-lasting.
With the material, you will notice it comes in a variety of colors, patterns, and textures that can be combined, and our team can help you work on the entire design. As a result, you can rest assured you will be able to get the specific deck you are looking for. But keep in mind that some limitations can apply due to how we must work with the specific space and your deck's limits and conditions.
Regardless of the situation, we carefully prepare the surface, pour the concrete, and stamp it with the desired pattern and texture. Our skilled contractors and staff then apply a sealant to protect the surface from stains, fading, and other forms of damage.
Stamped concrete pool decking is an option we always recommend because of its affordability, beautiful looks and durability. As long as you have us and our top-quality materials, you won't have to worry about poor results or dealing with a surface that isn't worth the investment. Hence, focus on us and how we can provide a clean result for you.
Why Jupiter Residents Should Contact Us
---
In addition to our skilled contractors, we focus on utilizing high-quality products and being properly equipped. In fact, we are always adding new elements and even focusing on providing continuous training.
Furthermore, we are able to work on your property in multiple services at once, not only pool deck stamped concrete. Regardless, this is a topic for another occasion.
We know that for fear of wasting money, some pool owners decide to tackle projects independently. We want you to have the support needed before, during, and after the decking is done. This means that besides being a company that is here to deliver a service, we are experts working towards your best interests. Therefore, if you have questions, doubts, or need to work on something, guidance, and recommendations can be provided by our company.
We understand that every client has unique needs and preferences, and we work closely with them to ensure that their stamped concrete pool deck meets their specific requirements. From the initial consultation to the final installation, we strive to exceed our client's expectations in every aspect of the project.
SoFlo Pool Decks and Pavers of Jupiter is here for your stamped concrete pool deck and one of the main reasons you can rely on us is also our competitive pricing. We understand that home improvement projects can be expensive, and we work hard to provide our clients with affordable solutions that do not compromise on quality or durability.
Whether you are looking to create a custom-stamped concrete pool deck from scratch or simply update an existing one, we are here to listen to your request. Therefore, feel free to contact our team and work with us on the project.
How to Contact Our Team for Stamping Your Pool Deck with Concrete
---
You can call or email our team anytime so that you get full support and guidance in the process. Moreover, our contact form is always open for any requests and ensures you have all your questions and doubts answered and cleared, respectively. Hence, don't hesitate to contact us for your needs.
In conclusion, to ensure you remember every detail, you can expect us to be supporters, guides, contractors, and everything you need to make a well-informed decision and have the deck all done. As long as you contact us first, we will take over the project based on your needs, preferences, and budget so that everything is perfect in all factors and aspects.
Below is our list of additional services: