Commercial Pool Deck Resurfacing Services for Jupiter Homes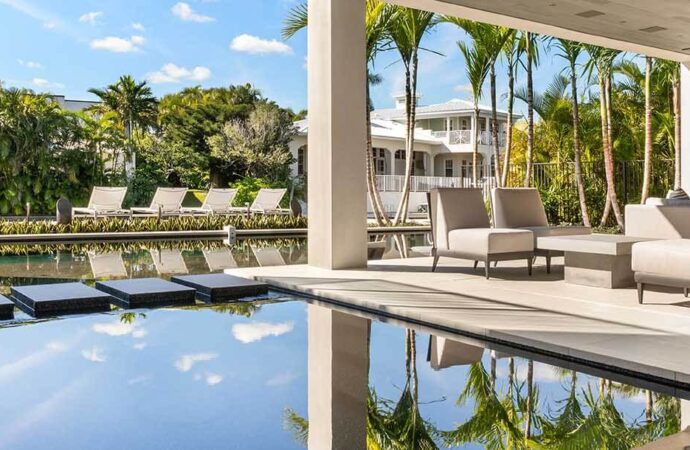 Commercial pool deck resurfacing is one of the challenges business owners face. Unlike residential pool owners, keeping the deck all neat and safe is a priority. Otherwise, guests and visitors won't feel comfortable using them or can be put at risk while doing so. One of the best options to get your project and need to be covered is contacting us at SoFlo Pool Decks and Pavers of Jupiter. We will help you with the entire project and ensure you don't have to worry about the details.
While we work with you and focus on the surface, you will have all needs and factors covered. Unlike other contractors, we worry about how durability, longevity, and aesthetics should be balanced. Otherwise, you would have a space that is far from what you need and require in your pool area. Above all, we will consider your budget and how much you can invest in the project since we know pool deck resurfacing isn't that affordable. Fortunately, you won't have to perform it that often thanks to how our contractors will achieve the perfect result.
Whenever you want a new surface due to how your pool deck is damaged or because you want a new design, get in touch with our team. 
The commercial process can take a bit more time and work due to how you must consider the entire landscape and property's design. Nevertheless, we would love to be the ones bringing everything you are looking for and ensuring you don't regret the investment. As long as you contact us first, we will handle the rest.
Finding reliable contractors to resurface commercial pools can be difficult as most are focused on residential work, or they just care about the money they can obtain with the service and project, not how they can make sure you're happy and satisfied with the result that should look stunning and be durable. Commercial properties, along with their pool areas—decks and the pool themselves— require more time and effort. You want a new coating that is durable, long-lasting, and beautiful, and for it, someone who knows how to work with the details will be needed. Commercial pool deck resurfacing isn't something anyone can do, and it's best to hire experienced contractors to do the job. SoFlo Pool Decks and Pavers of Jupiter is committed to making sure you are happy with the results that we deliver and that this project isn't a hassle when it should be part of the enjoyment of making your property more beautiful.
We have over 19 years of experience in the industry and are confident that we will deliver a great result you won't get tired of anytime soon. We are confident in our abilities and have worked hard to improve our services and techniques. Our contractors can handle the materials properly so that you get a great result from the beginning, as the quality of everything used in the project is important to guarantee longevity and durability.
We are able to offer residential pool deck resurfacing in Jupiter and all surrounding areas. However, commercial properties also require our attention, and we are not scared of taking on any of these pool areas. How do you determine if your commercial property qualifies for our services, though? We know many commercial owners wonder about this, and the answer is simpler than it seems.
Our team is happy to assist any commercial property that has a pool or deck. We want to make sure every resident and business has easy access to professionals who can ensure the quality of their pool decks. In other words, if you operate as a business or your property isn't actually a house or residential one you use for the regular purpose, we will be there with this service and our experts.
We don't need to service your "regular" property or space. We know that people will require our assistance with resurfacing commercial areas such as hotels, motels, and apartment buildings, which actually qualify as commercial since it is the owner and manager who need to take care of the pool area for the residents.
We are familiar with all of these areas and can help you make the most of your pool deck by providing the following:
All repairs should be made with a new coating, and we will make sure this is done well and lasts for years.

You should ensure that you have a fresh design and a neat style, which we will bring with the selection and choices you make in colors, textures, and materials.

To ensure safety and maximum comfort, make sure the surface is non-slippery, which is often offered by ANY of the materials and resurfacing options we have available.
Will Your Commercial Pool Deck Resurfacing Project Take Long to Finish?
It all depends on how big the deck is, what design you choose, and the preparations that are necessary before we can begin any project and work around the perfect design and result for it.
It is difficult to find an average time and cost for resurfacing. All of these variables depend on where and what property we are working with. After all, working with a new property and pool deck will depend on your particular space and not on a general project.
If the weather permits, and if you're willing to close the pool deck for several days, we will try to complete the job within a few working days, which are usually around a week. We will ensure that you don't lose any time and that your pool deck is ready to use as soon as possible and as long as the weather allows for the new surface to dry properly. We want to provide quick services, but we won't compromise quality or durability by doing so.
We value all things over time. Although we respect deadlines as professionals, we will be open about the length of the project once we have collected all information about your space. This will include what you need and how we will approach it.
Remember that the main determinant in this will be the type and design of the resurfacing. The size of your pool deck will play a significant role, but it is possible to complete a surface in just a few days if you choose the simple option, and sometimes, even two days can be enough for large spaces.
If you have a particular design in mind that calls for more colors, textures, or patterns, please extend the deadline by a few days so that we can let the mix dry and install all appliances and features.
We will guide you through the process and present all options with all their pros and cons so that you can make an informed decision. You will struggle to decide which option is best, especially if time is tight and you need us to complete the task as quickly as possible.
Is It Expensive to Have Your Pool Deck Resurfaced?
Resurfacing is often cheaper than you think. It all depends on what you choose and your needs.
SoFlo Pool Decks and Pavers of Jupiter will guide you through the commercial project. We'll help you choose and get a price that suits your budget. We will provide you with a free quote before we do anything so you can have an idea of the investment as well. For it, we will need the following information:
The location and the size of your pool deck.

Make a choice of the style and design you prefer.

Repairs that are required during the process.

If you have a deadline.
We are more than happy to evaluate your space and provide a cost estimate based on our conversation. If you prefer to reach out by phone or email, please do. We want to help you in the best way possible and answer all your questions.
Below is our list of additional services: