Pool Deck Resurfacing for North Palm Beach Residents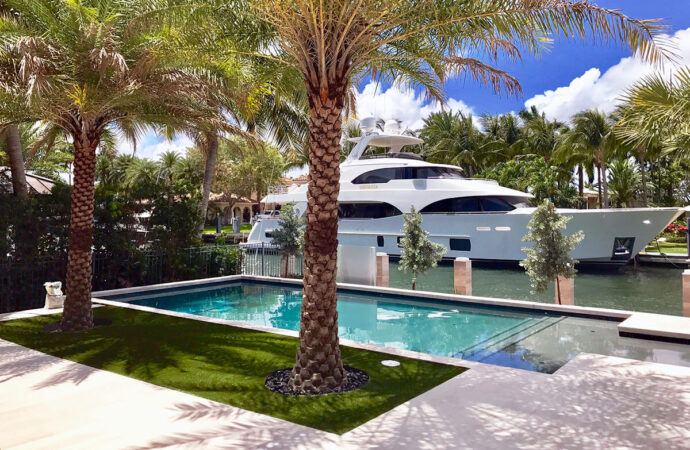 Part of owning a pool is worrying about post services. Pool deck resurfacing, pool refinishing, repainting, and more. There is a long list of things to do to have the feature running properly and ready to be used anytime. At SoFlo Pool Decks and Pavers of Jupiter, we help North Palm Beach residents and business owners to keep their pool areas in good condition. Additionally, we plan and design any projects and ideas you have in mind so that you can tackle all your pool additions and inspiration without worries.
In other words, we are here to make your life easier when it comes to proper washing, maintenance, and pool repairs. However, if you need to work on different projects and focus on how you want to change some features, we can also get it done for you. Overall, we offer full services, not only those focused on resurfacing and regular repairs. Therefore, rest assured that our team is here for more than your usual services that are performed periodically.
In fact, you can have our contractors work on those that aren't that frequent. The best part about allowing this is that you won't have to worry about repeating them anytime soon. 
For fear of how poorly some "experts" deal with pools, owners are afraid of hiring them and choosing to tackle projects independently. However, having us as professionals will ensure you can have a pool in good condition and look how you want for the time it is due.
It is not easy to ensure that your pool deck looks perfect or that every corner of your pool area is safe, clean, and stunning—all at once. Besides the regular worries about the aesthetically pleasing look you can achieve or want, you need a non-slip surface, and the deck must be able to withstand the high traffic considering all the people using the space, or just well, you are working in the pool area. If you don't have the proper knowledge and experience to find the right surface for your North Palm Beach pool deck or work with your pool area overall, the right step to take is to find professionals who are qualified and experienced. Our professionals at SoFlo Pool Decks and Pavers of Jupiter are more than qualified to provide top-quality services and results that will make your decks last longer, look better, and have a stunning appearance that won't need much maintenance.
For over a decade, we have been providing services in North Palm Beach. We know how important it is for homeowners and business owners to be able to access the best services available in the area so their pool areas are always repaired on time and look stunning for any person that wants to spend time in them.
We offer many solutions, unlike other companies. This allows you to find everything you need in one location. We want you to understand that we aren't trying to sell you anything or give you more than we can handle. We are experts in every service offered in the city and will do everything we can to make sure your pool deck is well-maintained.
Our team can now deliver pool deck resurfacing as well as work with various types of coatings and products. We want you to have as many options as possible. This is why we invest a lot in expanding our offerings and bringing on more professionals who are able to follow our quality standards.
We will gladly assist you with any service that you require, regardless of what it is and how small or large the pool area is, and where we have to work in specific within the city.
We Are Here to Bring Your Ideas to Life
We can offer a variety of surface options, including diamond brite as a good finish for the interior walls and surface of your pool and travertine installations for the pool deck itself. They are both amazing and will provide a non-slippery, durable surface that will last no matter how many people use it or if you want to ensure safety for children.
We put in a lot of effort to make sure the design, colors, and detail are exactly what you need. This will save you time and money as you will be satisfied with the result.
Pool deck repairs and pool remodeling are two more services. Our team can help you with any surface problems, cracks, or slippery surfaces. We also offer pool remodeling services and go over all the needs regarding coating and regular maintenance as needed and requested.
Below is our list of additional services: