Eurotile Installation Services for Jupiter Residents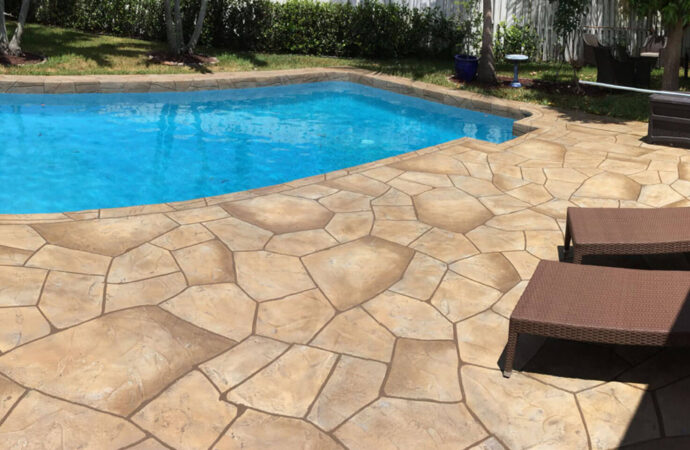 Eurotile is one of those options not many consider, but they definitely should. Due to its resistance and flexible design, you can imitate different materials for your pool deck resurfacing project. Those include travertine or stamped concrete itself. The best part is that you can simultaneously get a stunning and durable design. For fear of not being able to enjoy the space for long, people don't adventure themselves into new materials. But at SoFlo Pool Decks and Pavers of Jupiter, we can guarantee you that eurotile is worth your time and money.
What it takes to enjoy everything the material has to offer is a team of qualified contractors so that you don't struggle with installation. We will be there to guide you throughout the process and focus on how you can have a stunning and long-lasting result. All this while keeping your budget in mind. Therefore, rely on our contractors to let us know how to help. In case you want to start working with us after this, you will need to take the first step.
First, contact our team via phone or email or use our contact form. Second, let us know all your worries and how we can help. Third, wait for our answer. Finally, we will take the reigns from here so that you can relax and have our team think about what you need and how eurotile should be worked with. During this process, we consider your preferences, budget, and needs. Hence, you don't have to worry about any issues related to how we handle the whole estimate and process.
Concrete or tiles are the best options for your pool deck surface, or this is what most homeowners and commercial owners believe when they have to deal with the entire project of resurfacing their pool decks or working on the construction for the first time. Now, we don't want to say they are bad, considering they are durable and can be used often, and are easy to install, but both options are expensive and may not be the best for your space in all cases. On the other hand, eurotile is an affordable option that can also provide a beautiful and durable surface. Our team at SoFlo Pool Decks and Pavers of Jupiter recommends it highly, especially considering that you can imitate several styles and designs and get a more durable surface in the process.
This surfacing option gives you a sophisticated and elegant look that's often difficult to achieve with brick pavers or concrete; if contractors aren't skilled in using the material, it will be even harder to get the final result you expect with them or any other option. You will need to weigh the pros and cons of different materials when you are working with pool decks, and if you choose us, you won't have to worry about the professionals working on your pool deck.
Considering the pros and cons we mentioned and moving to eurotile, the pros are often focused on eurotile's durability and strength to the point where it can provide a beautiful, clean surface for more than a decade. Repairs are very rare as long the surface has been properly installed.
It is not uncommon to see them in pool decks or even pool areas that include more than just the surrounding space in specific since most people are starting to notice and be amazed at how cost-effective, durable and beautiful the results are and how they can be when all is done right and the style and design that the product offers to match what is needed.
Before you make the decision to go ahead and select our service, it's important to find out more about eurotile. We're happy to help you get started and provide all the information and details that will open the opportunity for you to select a surface that is more affordable and still brings the design you want.
Everything You Need to Know About Eurotile for Pool Decks
We understand that you are hesitant about the many options available for your pool deck and how this one probably came out of nowhere, considering that concrete, brick pavers, and travertine are the ones that shine the most. However, we assure you won't regret knowing about eurotile.
Eurotile is a long-lasting, durable product that can be used in many different designs. It takes less time to install than other surfaces and materials. You will also be able to absorb the water, which is something you need to consider when designing your pool.
Eurotile has seen a lot of popularity in the last ten years. It is made from acrylic and concrete and has heat-blocking properties that are very beneficial for both the local and state climates. It is possible to have different styles and designs installed, which is the intention of most homeowners.
Our team can help you achieve the appearance of natural stone, Mexican tiles, slate, and flagstone. You must learn how to properly use the material to do this, and we happen to have over a decade of experience in its use. This will ensure that your space looks beautiful, and you won't have to worry about quality, thanks to us.
The product's structure is not complicated. Instead, consider the benefits that it brings, and we assure you will want to have it as your surface in no time:
It offers aesthetically pleasing looks and styles.

Strong and solid are two words that describe the material.

It is able to withstand heavy weights and extreme weather conditions and provides excellent performance for pool traffic, even when you are moving furniture or adding new features.

This is an excellent option for a first installation or a resurfacing project that changes the aesthetics or brings a new look to your pool deck.

It can last for more than a decade without any maintenance, which saves you time and money, and repairs are very rare, meaning you won't spend a fortune like with other surfaces.

It's very hygienic and won't leave you with any bacteria that you have to deal with every day.
When you contact us to request our pool deck service, we will introduce eurotile to you and go over all details that will assist you in making a decision. The product is a great choice for any pool area, and we want you to consider the opportunity if you want to achieve specific designs, durable ones, all at an affordable price.
You will have a budget-friendly and financially sound surface that will provide a return on your investment (or ROI) in the long and short term. The pool deck can be upgraded or new, and the product will require minimal maintenance.
All The Designs You Can Get
You can imitate different surfaces and colors, and you can get colors and materials that are customizable to fit your outdoor space and pool deck.
There are almost limitless color options available, depending on what design you choose. You can imitate Mexican tiles or natural stones, and based on the one you choose, you get more options as the design or style changes.
You can choose between a smooth, very durable surface or a sleek, smooth one for textures. Most of the time, it all comes together. The material is extremely resistant to any weather conditions, so you don't need to worry about it getting too hot or slippery. It will also stay cool due to the consistency of its main materials. The result will be an absorbent surface that combines all the benefits and creates a safe zone.
Contact our team to get more information about your surface and to receive the best results with eurotile, thanks to our experienced professionals in the city.
Below is our list of additional services: