Pool Coping Services for Jupiter Residents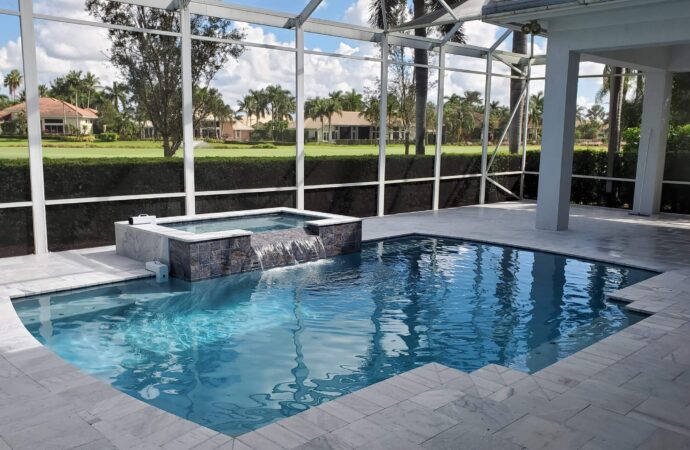 When you don't know how pools are built, you may miss one or two steps in the process. As a result, you won't know if the contractors you hired also did a good job, leading to issues and more expenses later on. One of the parts most people ignore is pool coping. Unlike other companies and contractors, we at SoFlo Pool Decks and Pavers of Jupiter want to ensure you are covered so that you don't have to worry about your pool's structure and condition. This coping is exactly what is between your pool and the surrounding area—usually your deck.
The way it works is to ensure all the water that comes from the pool goes to the drainage system you have installed. Otherwise, it will build up in this space and create mold, leading to unhealthy results and more expenses on your end. This is why focusing on having your coping done correctly is crucial. We help you with inspecting the current pool's structure and focusing on creating a plan to get it done in case yours is missing some elements or the coping as a whole.
Working with us on this project means you will need to allow our contractors to inspect your pool before anything else. In case you don't want us to visit before providing the estimate, we can give you the information when you provide the details about your pool, but the quote won't be as accurate as if we performed an assessment. Therefore, remember that it can vary later when you decide to work with our team.
Pool coping is often forgotten and not considered necessary when creating a pool or working with construction and all its elements. Our SoFlo Pool Decks and Pavers of Jupiter team is well-versed in this subject and will always provide the best possible solutions and services. We want to help you understand how to deal with this coping need and why it is essential to be aware of it if you want to have a pool that will last and won't bring more problems than needed and that you can handle.
To make sure you understand the basics of pool coping, it is what separates your pool shell from the surrounding area. This is why you should consider it part of the edges but not entirely. It is also how you deal with the separation and the particular area behind the shell. It is essential to ensure that the separation protects the pool structure. This will allow for more excellent durability and longer life, regardless of its size.
People often wonder how the pool can be managed and what steps are necessary to ensure its durability. It is essentially the area around your pool. Therefore, the "layer" that you apply or install in it must resist any external elements and be easy to use while also offering protection to the surrounding area or pool deck to ensure the water that comes from the pool isn't stagnated and, instead, go right to the drains installed.
Poorly installed or maintained edges and the outline of the pool can cause water damage and more severe problems to your pool. Pool coping allows you to ensure that your pool's design and style blend in with the surrounding space. It also ensures that the pool is durable and long-lasting so that no repairs or maintenance are needed more often or on several occasions.
Pool coping is a much more affordable option than other projects, such as pool deck resurfacing. Many choices are available, so you can pick a design that suits your current style and a new one. You won't need to replace it as long the materials and installation meet the required standards and have experts that can promise a stunning and durable result during the entire project and its development.
Pool Coping Can Be Used in All Cases
You can refer to specific pools and projects based on the time taken to install them. However, pool coping is only one part of the whole process of owning a pool, and if you're worried about when it should be used, it will make you happy to know that both new and old pools need it and can benefit from proper coping and how it was handled.
Although pool coping is installed at the time of building a pool, the type of coping used will vary. Some contractors won't use the best quality options because they can increase costs. However, many clients only want the end result and don't pay attention to the actual materials used by some companies that could be promising high-quality materials. As a result, you and other owners will need to worry about changing the material and going over the pool coping, even when this should have been done properly since the beginning.
When you start building your pool, it is important to determine the type of coping that will be used. Experts must inform you if the coping is not of good quality, regular, or excessive. This is because it is more common for inexpensive projects to choose the first option.
We only use the highest quality coping and materials. This means that even if we were to install a pool or replace and install an existing pool coping after a few years, it should not cause any problems. Instead, it will last many years.
Please let us know your project details when you contact us to inquire about our services. The contractors responsible for the pool construction should also be responsible for the coping. We can also offer individual services if you need us to provide the best affordable products and installations that won't break the bank.
The pool's shell will look amazing and won't easily be damaged. It will keep it from splitting, and any water coming from it won't get behind the shell, stopping moisture. The water will drain away from your pool and flow to the drains around it.
What Are the Different Types of Pool Coping?
This pool option is unique in that it can be customized with many different designs and materials.
You can choose from popular natural stones that have different textures and colors. However, depending on which stone you select, you'll get a different type of coping. Stones are not always considered to be expensive. However, there are many options. Our company offers affordable prices and does not compromise the quality of the stones.
Bricks are the best option for most homeowners and commercial owners who want a great design yet need to save some money as well. They are affordable, durable, and have modern and elegant designs that can be installed correctly and in no time. A coping can last up to ten years, and our team will guarantee it can even go beyond this mark.
On the other hand, you have options that aren't as popular, but this doesn't mean they are bad. Travertine is one example of the most cost-effective option, while tiles offer the classic look that many homeowners prefer for their backyard and pool area.
Concrete is versatile and can be used in many styles. Concrete can be mixed with other materials, and maintenance is low, much like bricks and travertine.
Our team will assist you in choosing the best pool coping for your home and ensure that you can afford it. We are sure that you will be pleased with the result. Instead of worrying about your pool all the time, you will have a pool that will last many decades.
Below is our list of additional services: